Market Recap: The market had an interesting day as the Dow and blue chip stocks soared higher while the Nasdaq and tech stocks struggled on the back of weakness from Apple (AAPL) and Google (GOOG). The market, additionally, had a very mixed day of news as retail sales led the way with an 0.8% increase vs. 0.3% expectations. Citigroup (C) also reported strong earnings that helped the financials stay strong today. On the flip side, the market got weak news from the NAHB Housing Market Index as well as the Empire Manufacturing Index which came in much weaker than expected.
It was quite a peculiar day as the low-growth, blue chips were solid. High-growth stocks seemed to struggle. Financials were solid, and tech was weak. It was sort of a flip of the typical script, and it makes the day feel somewhat worse than the print showed. Overall, we think that the market is going to stay pretty neutral through earnings season with some up days, some down days, and a lot of mixed stock movements. It's a busy week ahead of us.

Two Trades
Two stocks we like right now are BMC Software (BMC) and Ultrashort Proshares DJ-UBS Crude Oil (SCO). We like the looks of BMC right now as the chart is suggesting a golden cross of the 50-day MA above the 200-day MA. Further, the stock held its ground despite a very weak day in the Nasdaq and has looked up since a move to the $38 area. We believe the stock has good support below it, and it is ready for a breakout. The company is Buy-rated by us with a $57 price target. Ultrashort Proshares DJ-UBS Crude Oil is a great way to play oil short. We believe oil is about near a top right now. The situation in Iran seems to be improving with developments today, and oil was not able to lock in much of a gain despite good retail sales and a decent equity market day. We believe the supply issues are going to catch up with oil.
Trade #1: BMC, Long
Trade #2: SCO, Long
(Click to enlarge)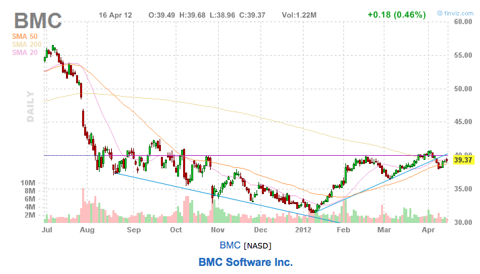 Tomorrow's Outlook
The market was mixed today, and we tend to believe it will maintain a neutral path with the market moving on a lot of earnings, data and European developments. Earnings from Goldman Sachs (GS), Coca-Cola (KO), Johnson & Johnson (JNJ), and some other banks will be crucial for the markets tomorrow. Strength in the consumer staples and financials will continue a nice trend for the Dow that was set today. We also have very important economic data with Housing Starts, Building Permits and Industrial Production. We would look for the market to react to this news. We also need to continue to watch the European bond market. Overseas, we have some influential reports from Japan's Industrial Production and Consumer Confidence, Great Britain's CPI, Spain selling more bonds, and the ZEW Survey. Its a busy day tomorrow, so look for a lot of factors to influence the market.
Analyst Moves
The interesting moves we saw for analysts today was an upgrade from Miller Tabak on Domino's Pizza (DPZ) from Hold to Buy with PT increase to $41. We continue to maintain a Hold rating on the stock with a much lower $32 PT. We continue to believe that DPZ is not going to be able to maintain any economic moats in their industry. Barclays was busy today, and one upgrade that caught our eyes was a PT upgrade on Salesforce.com (CRM) to $169. We continue to maintain a $95 PT on the company as we do not see earnings yet and the company continues to outgrow SG&A at faster rate than revenue.
Commodity Talk
See crude discussion above.
Our Moves
We had a pretty decent day. We locked in a 5% gain on our Goldman Sachs 110/105 bull put spread for Apr20 to take risk off into earnings. We also got a 1% gain on a long we had in Sempra Energy (SRE) in our Equity Portfolio. We did take a loss of 2% on our long on Melco Crown Entertainment (MPEL).
We have the following positions. In our Short-Term Equity Portfolio we are long CF Industries (CF), MPEL, SCO, BMC and Sempra Energy. In our Options Portfolio, we are long Dollar General (DG), Monster Beverage (MNST) SPDR Gold (GLD), AAPL, Visa (V), Starbucks (SBUX), Ralph Lauren (RL), Google and IBM (IBM). We are short Apollo Group (APOL) and Johnson Controls (JCI). We have a reverse iron condor in Direxion Financial 3x (FAS). In our Earnings Portfolio, we are long Chipotle Mexican Grill (CMG), Ace Limited (ACE), Ulta (ULTA), Canadian Pacific (CP), Ashland (ASH), Coinstar (CSTR), and Goldman Sachs . We are short Amazon.com (AMZN).
Chart courtesy of finviz.com.
Disclosure: I am long SRE.