Since mid-year last year, just about everything that can go wrong has for Goldman Sachs (GS). Goldman has publicly cemented its private reputation as the vampire squid of finance. They just agreed to a $22M settlement relating to preferential treatment of certain clients. Highly publicized resignation letters such as this show a culture that has gone awry under Lloyd Blankfein's watch. The regulatory headwinds against investment banks such as Goldman and Morgan Stanley (MS) look like they are going to stay. So buy Goldman, I say? Indeed I do, for at least 3 reasons, as below.
Earnings. As pointed out by the Bespoke SA article on Earnings Estimates for Financials, the earnings estimates for a number of financials including JP Morgan (JPM) and Wells Fargo (WFC) have been going up over the last few months. JPM and WFC released their earnings last week, and the news was largely good. Goldman's estimates (as seen in this article) are similarly trending up while the stock is trending down. Maybe traders are skittish because Goldman's last few earnings reports have been dour, but things can change, and the trend from the better players in the industry looks mildly positive.
Technicals. As the chart below from Yahoo Finance shows, the $113-115 range has been a support level that has held for GS over the last few months. If you take a look at a longer-term chart, this support level reappears in other places as well. At Friday's close of a $115.09 you're at or around this support level, with Goldman's earnings call on deck next week.
Click to enlarge.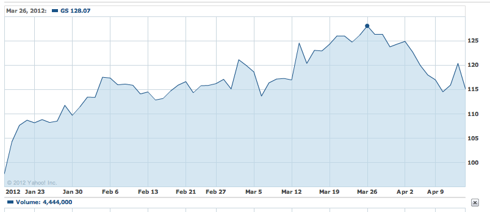 Click to enlarge
Psychology. The chart from MarketPsych (a market psychology data provider) shows an interesting trend. Historically (2009 and 2010), there has been a positive correlation between Goldman stock and the sentiment indicators, and this correlation was re-established in mid 2011. Recently however (for the last two months), the stock has not followed the sentiment. This may not compel on a standalone basis, but is a net positive when taken into consideration along with the points above.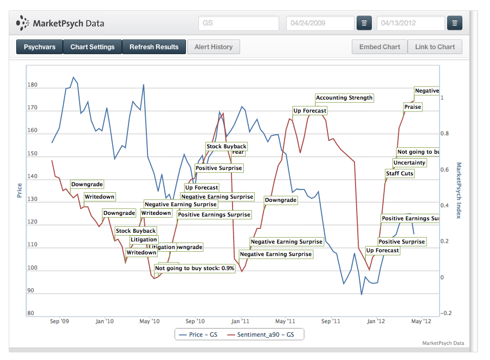 Click to enlarge
Goldman is a case where even if you hate the company, you want to consider the stock. While there are no sure things, Goldman still has a deep bench, and in the world of asset management and investment banking it still wields a big stick. Depending on your risk profile, Goldman is worthy of a look, both short and medium term.
Disclosure: I am long GS.