As companies continue to battle the strain of Sarbanes-Oxley, many are turning to consultants to provide efficiency and expertise. At the same time, our litigious society requires vigilance and documentation so that firms are able to fend off accusations of neglect or other liabilities. Huron Consulting (HURN) specializes in litigation, business disputes, regulatory compliance; which puts them in a sweet spot where demand is strong.
HURN has a diverse client base serving Fortune 500 companies, mid-size companies, and a strong presence in hospitals and universities. The company has grown both organically and through acquisition since coming public in late 2004. While most of the organic growth has occurred in well established business lines, acquisitions have allowed the company to branch out into additional sectors or geographies. A recent purchase of Glass and Associates strengthened the company's presence in their Corporate Advisory Service practice and also gave the company a presence in the UK and Germany.
When HURN reported their Q2 numbers back in August, there was some concern over lighter growth in the legal financial consulting segment as well as legal operational consulting. It appears most of that disappointment was related to timing as projects were completed in Q1 and new business would not recognize most of the revenue until Q3. Investors will be tediously combing through the earnings release on October 31 to see if these sectors picked back up the revenue stream that appeared to be challenged. William Blair stated that their checks across the industry indicated that the sector is strong and HURN was not likely to be losing market share. Deutsche Bank explained that the company is retaining more consultants in this area than expected which reflects management's optimism for the division.
As the company acquires new businesses, it opens opportunities for them to cross-sell existing products to new customers as well as new services which may be attractive to their existing client base. A recent acquisition of Callaway Partners not only gives the company a business specializing in finance and accounting project management; but also gives them an Atlanta office. HURN expects to leverage this office to establish a full service presence in the Southeast, where it had not previously had a major presence.
Concerns of a decline in the overall economy may be a boon to the company. Statistics point to a resurgence in bankruptcy filings after a sharp decline following the rule changes last year. As this bankruptcy rate upticks, it means more business for the legal functions. At the same time, regulatory compliance is not a discretionary function and so the company should enjoy strength in this are regardless of the economic cycle.
One technical concern I have with the stock is a lack of volume the last several weeks as it has built the right side of a broad base. This may indicate a lack of interest from institutional investors who are often necessary to propel a stock significantly higher. While the fundamentals remain intact, and the valuation is still attractive, I would be cautious stepping into this name until volume picks back up. All in all, the picture looks attractive and I will be watching for good opportunities in this name.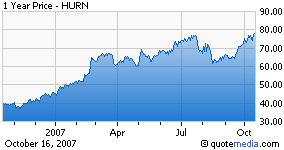 Disclosure: Author does not have a position in HURN