Of the Israeli stocks in my portfolio, the one that provided the biggest surprise of the week was, without doubt, LanOptics Ltd. (LNOP), which climbed no less than 25%, and has now gained 70% since the beginning of the year. Not many people know this, but the value of EZchip Technologies Ltd., LanOptics's sole holding, has already reached the $500 million mark, and if we include the employees' options it could even exceed $600 million.
James Cheney, the private investor who only a month ago purchased more than one million shares and options, has already made a profit on paper amounting to millions of dollars. The average price he paid was less than $17, compared with almost $24 today. Those investors who bought shares through Jeffries & Co at almost $19, have also made a handsome profit on paper.
I added LanOptics to my portfolio eleven months ago when I visited the company together with Avi Armon, an Israeli living in the US, who is a private investor and a member of the George Gilder forum. I believed then that the train had finally begun to roll, after many wearying years of waiting for the breakthrough that failed to materialize. Today, having made a return of almost 90%, I am cutting my holding by half. It's not that the train hasn't begun to move but that I now feel that it is going too fast. I fear that the upcoming results, while they will nevertheless be excellent, will not meet the spiraling expectations.
Apparently, the high price that LanOptics reached was due to its announcement on Thursday. Some investors had evidently "smelled" that announcement weeks ago ahead of the Gilder/Forbes Telecosm 2007 Conference opening today at Lake George, New York. LanOptics CEO Eli Fruchter will be a key guest at this event. EZchip is entering an additional market that corresponds to what it currently does, only this one focuses on network access. All told, the market the company is now aiming for is expected to triple.
EZchip's new generation of network access processors are called NPA, and I believe that they won't generate any substantial sales before 2009. Until then, the company will see strong growth in sales of its current family of NPU processors, through giant customers such as Juniper Networks (NYSE:JNPR) and Cisco Systems Inc. (NASDAQ:CSCO), and through its collaboration with Marvell Technology Group (NASDAQ:MRVL).
EZchip has very few competitors in the NPU market, and just one real serious contender, Broadcom Corp. (BRCM), which acquired a company in the field. EZchip will, on the other hand, face competition in the new network access market from a good many companies - from Intel (NASDAQ:INTC) to the privately-held Israeli company Wintegra Inc., whose IPO through Goldman Sachs was abruptly called off at the beginning of the year.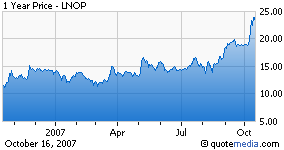 Published originally by Globes [online], Israel business news - www.globes.co.il © Copyright of Globes Publisher Itonut (1983) Ltd. 2006. Republished on Seeking Alpha with full permission.