In last week's Barron's, Assif Sameen points out that Indonesia stocks "look tempting."
Assif notes that Indonesia was the only emerging market to rise last year, but since the beginning of 2012, "the Jakarta bourse has been more of a laggard than a leader. Indonesian equities are up 7.1% this year in U.S. dollars, while the MSCI Asia ex-Japan Index has climbed 14% on the same basis."
But Assif noted, "that's about to change for the better," according to a prediction by Ferry Wong, head of Indonesian research at Citigroup:
Even though Jakarta stocks are selling at 13.9 times this year's expected earnings, compared with a five-year average of 12.7 times and the current regional average around 11.5 times.

Though consensus estimates are for corporate earnings to rise, on average, 13.7% this year (after a 28% surge last year), Wong is flagging a more aggressive 19% earnings-growth target.
And dividend investors, take note: Indonesian stocks now yield about 2.5% on average.
What's also interesting is that Wong says the country's property market is "thriving":
The property sector is thriving as increasingly affluent Indonesians buy a new home or upgrade their current one. Indonesian mortgage rates have plunged from 20% a few years ago to 7.5%.

Despite loan-to-value limits of 30%, the "mortgage affordability level has increased 60%" since 2007, says Wong. Moreover, the market is vastly underpenetrated; mortgage debt equals just 15% of the country's gross domestic product, compared with more than 94% in the U.S.
Wow! Loan to value ratios of only 30%? Imagine how well the US market would be doing had we not overleveraged our properties so much over the past few decades.
***
Investing in an Indonesian ETF:
A resource-rich country that supplies copper, nickel, palm oil, and other commodities - plus has a relatively robust consumer sector - represents an excellent investment opportunity. So that's why I own the Market Vector Indonesia ETF (IDX).
This fund, with a net asset value of about $500 million, offers diversified exposure to a wide range of companies in this growing market. Here's a look at its top 15 holdings, which account for nearly 70% of the fund.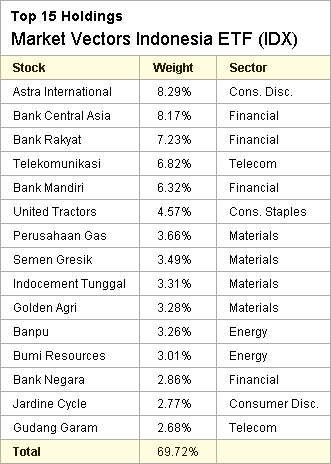 The top 5 holdings, which represent more than 36% of the ETF include:
Astra International (OTCPK:PTAIY), which distributes cars, motorcycles and parts.
Bank Central Asia (OTCPK:PBCRY), Bank Rakyat Indonesia (OTCPK:BKRKY), and Bank Mandiri (OTCPK:PPERY) provider of both institutional and consumer financing
Telekomunikasi, the nation's major telecom company, which recently set up a joint venture with eBay
On a sector basis, the fund's allocation looks like this: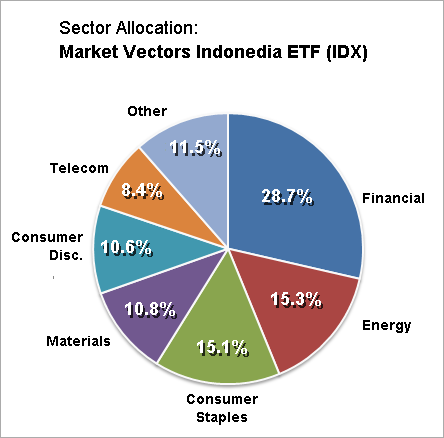 It's certainly true that IDX has underperformed the iShares Emerging Market ETF (EEM) on a year-to-date basis, but over the past three years, IDX has outperformed that ETF by 80% as you can see on these charts: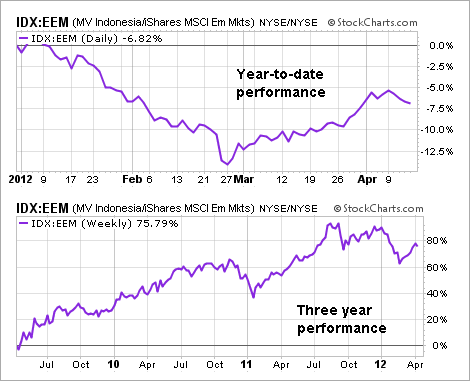 Sound fundamentals, decent growth
As an exporter of coal, copper, nickel, and palm oil, commodity prices obviously will impact the nation's economy, but as the Barron's article points out, the country has sound macroeconomic fundamentals and will likely benefit from future growth in Asia and the rest of the world.
Disclosure: I am long IDX.