Minefinders Corporation Ltd. (AMEX: MFN) anticipates completing its first gold pour early in the first quarter of 2008 and reaching full commercial production by mid-2008. We believe this to be quite an accomplishment. When we visited the property less than one year ago, the Company was still in the process of preparing the terraces for the crushers and the Merrill-Crowe processing plant (Figure 1). Also, they had just recently completed a 92 km road which required upgrading an existing road and completion of about 15 km of new road. Considering the rough terrain and challenging weather conditions over the summer, we believe Minefinders is still holding close to the original schedule and the progress in just one year is impressive.
Figure 1 – Primary and Tertiary Crushers and Merrill-Crowe plant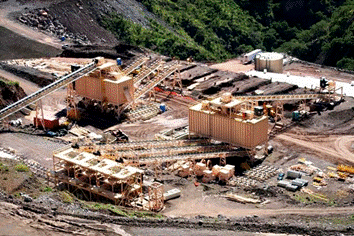 Source: Minefinders
The initiation of production at Dolores in 2008 should provide a catalyst for appreciation of Minefinder's shares (.pdf warning). Additional catalysts include the likelihood of making a board level decision by mid-2008 to expand the mine to process high-grade ore to achieve greater recoveries and increasing profitability. There is significant high-grade gold and silver mineralization below the Dolores pit. The bold line in Figure 2 at 1250 meters represents the bottom of the pit.
Figure 2 – Dolores Pit Crossection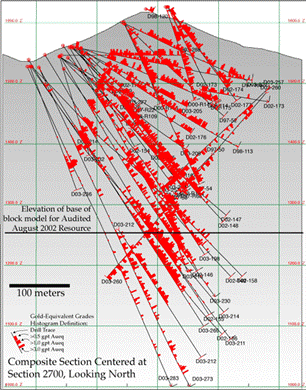 Source: Minefinders
Initial production by heap leach will optimize project development. Average recoveries for the heap leaching are estimated at 73.9% gold and 50.3% silver. Earlier tonnage removed from the pit will contain a higher proportion of oxidized gold mineralization which is more amenable to heap leaching. The potential to add a mill and float the ore should allow for greater recoveries of silver, with a greater proportion of higher grade silver. Recoveries from operation of the flotation mill are estimated at 95% gold and 90% silver.
The Dolores Project is scheduled to produce about 127,000 ounces of gold and 4.8 million ounces of silver annually for a mine life of 14 years. The project has additional resources at the north and south ends of the proposed pit, which are being evaluated for inclusion in the proposed mine operation. In addition, there are substantial high grade mineralized areas below the pit and running parallel to the existing deposit that have good opportunity for accessing underground.
The initial development of a heap leach operation with staged construction of the flotation mill appears to be part of a well conceived plan. Management's focus is on controlling shareholder dilution, by initiating production by heap leach while minimizing cash outlay, and prudently constructing the flotation mill in time as needed, while pursuing expansion of the pit and underground opportunities. Dolores is unhedged and exposed to increases in metal prices. Production at Dolores should attract the attention of investors looking for unappreciated production and expansion potential. Dolores should also provide additional cash flow for Minefinders to advance its other large exploration opportunities in northern Mexico.
Disclosure: The author provides corporate advisory and research services to MFN. The author is long MFN.