In this article:
New problems for Ivanhoe Mines and SouthGobi Resources.
Review of the story regarding the West Tsankhi deposit of Erdenes Tavan Tolgoi as it provides a possible timeline for the resolution of the current problems of Ivanhoe Mines and SouthGobi Resources.
Near-term investing counsel for Mongolia investments: caution and seek opportunistic investments.
Brief comments on that state of political institutions in Mongolia and the investment climate.
Brief remarks on why investors in Mongolia should care about how all Mongolia citizens benefit from the country's economic boom.
Closing words on Mongolia's bright outlook going forward.
There is a new problem for Ivanhoe Mines and SouthGobi Resources which I tried to telegraph might be coming in my previous article based on heretofore unconfirmed rumors I had heard. I submitted my previous article at 5 pm April 15, 2012 and it was published at 2 am the following morning (New York time). Largely about Ivanhoe Mines, in the article I noted:
There has also been some contentious reactions in the Mongolian government regarding Ivanhoe Mines' recent agreement to sell SouthGobi Resources to Chalco for an estimated $926 million.

The UB Post rounded up a few reactions to this deal...

Political statements such as these are going to be amplified not only this week, but through the Mongolia's national elections in June 2012.
This morning on the news wire:
SouthGobi Resources Ltd said the Mongolian government suspended exploration and mining licenses for its Ovoot Tolgoi coal mine following a stake buyout bid by Chinese aluminum giant Chalco.
I originally wrote about Chalco's (ACH) deal to buy Ivanhoe Mines' (IVN) 57.6% stake in SouthGobi Resources (OTC:SGQRF) on April 4, 2012. In a sub-section of the article entitled, "Add An Election Year And Stir Well", I noted:
Parliamentary elections in Mongolia are in June of this year... there are concerns that Mongolia's resources will become overly beholden to, or taken over by, China. A state-owned Chinese company - Chalco - taking majority ownership of one of Mongolia's major coal-mining companies will not alleviate this and could well be open to election year rhetoric.
I am concerned generically with how the markets will react to the news from the news of April 16, 2012:
that the Mineral Resources Authority of Mongolia ("MRAM") held a press conference today in Ulaanbaatar announcing a request to suspend exploration and mining activity on certain licenses owned by SouthGobi Sands LLC, a wholly-owned division of SouthGobi Resources Ltd.
The Associated Press and Marketwatch already have tied the problem with the SouthGobi/Chalco deal to Ivanhoe Mines' share price action on April 16, 2012, ignoring all other issues related to the company.
Peter Koven, in one of the better articles about the status of this deal, cited BMO Capital Markets analyst Meredith Bandy as saying:
"In a best case scenario, in one to two weeks, a foreign review process would be established, Mongolia would review the deal, and the Chalco transaction would close in August as planned... The transaction timeline may already be long enough to accommodate some delays in the review process."
However, Mr. Koven also stated clearly:
In Mongolia, almost anything Chinese is viewed with suspicion - including deals with Canadian mining companies... The [license suspension] announcement came out of nowhere, and SouthGobi maintained that its licenses are in good standing... According to sources, the move appears to be largely political.
At the close on Monday, April 16, 2012, SouthGobi Resources closed down 12.3%, Ivanhoe Mines closed down 5.9% (and down 23.6% in the prior two weeks) while Chalco was down only 1.23%. Entree Gold (EGI), a partner with Ivanhoe on portions of the Oyu Tolgoi project closed down 4.67%.
The Erdenes Tavan Tolgoi Deal That Was Not
Past experience tells me this decision is not final. I have been writing about the state-owned Erdenes Tavan Tolgoi deposit since Sepetember 2011. Erdenes Tavan Tolgoi is Mongolia's state-run coal company with 6.4 billion tonnes of coal reserves that is set to have a worldwide IPO led by Goldman Sachs (GS), Deutsche Bank (DB) and others by the end of 2012. The government has planned to contract out the development of the Western Tsankhi deposit of Erdenes Tavan Tolgoi. Last year, on July 5, 2011, the government seemed to announce the bidding was complete.
July 5 [2011] (Bloomberg) -- China Shenhua Energy Co., Peabody Energy Corp. and a Russian-Mongolian group were picked to develop Mongolia's Tavan Tolgoi deposit, potentially the world's largest untapped coking coal reserve.

A Shenhua-led group will get a 40 percent share in the project, while Peabody will hold 24 percent and the Russian- Mongolian venture 36 percent, according to a statement dated yesterday on the Mongolian government website.
By the end of July 2011, there began to be news that the deal was almost affirmed by the Mongolian government, but not quite. News began to leak out in August 2011 that the deal for the West Tsankhi deposit of Erdenes Tavan Tolgoi with China Shenhua (OTCPK:CSUAY), Peabody (BTU), and a Mongolian-Russian consortium was cancelled.
In September 2011, there were parts of the deal I did not understand, with some of my understanding of this complex deal only corrected in the most recent weeks. However, what remains is that no new deal for the West Tsankhi deposit has come to light since the prior publicized deal from July 2011 was annulled.
In my original article on the Chalco deal, Erdenes Tavan Tolgoi's COO clarified that while a deal does not need to be concluded prior to the Erdenes Tavan Tolgoi [ETT] IPO:
...it is desirable that the deal is completed prior to IPO in order for the value of this contract to be reflected in ETTs valuation. Unless the contract is completed with the consortium it will not be possible for investors to value the contribution of the West Tsankhi deposit to ETTs cash flow. This could then result in the valuation of ETT being lower than its true value. In any major listing like this it is essential to eliminate as many uncertainties as possible in order to enhance value.
The point of this part of the vignette about Erdenes Tavan Tolgoi is that from this moment of taking actions against the deal involving SouthGobi Resources, Chalco, and Ivanhoe Mines, the timeline to a clear resolution in the manner preferred by investors may be a very long one.
Thus, Looking At The Near Term
Near-term I think this announcement by the Mineral Resource Authority of Mongolia on April 16, 2012, may be very difficult for all listings that do business in Mongolia. The government needs to step in and clarify what they are doing precisely more quickly than in the past. As noted above, the decision making process in Mongolia is often more thoughtful and lengthy, and can have reversals along the way. Until there is a final and approved decision from the National Security Council on this matter, I will not assume anything is final and concrete. The National Security Council of Mongolia has at times reversed prior decisions as not being in the best interest of Mongolia.
On the other hand, as a source pointed out to me over the weekend, "If the U.S. can block a deal for China to buy a company, why shouldn't Mongolia?" (e.g. U.S. blocked deals on fiber optics, Bain capital's joint buyout with a Chinese company of 3Com, et cetera)
That said, this action toward SouthGobi will create questions about the range of possible outcomes which is not something investors typically like. As the only news that truly circulates the globe about Mongolia tends to be either hyperbolically good (a huge mining boom that could enrich the entire nation of 2.8 million people) or hyperbolically bad, the government officials in Mongolia need to become better at managing their decision making process, and management of the news that comes out of the country if they are concerned with raising the profile of the country as an investment destination.
Editorial Comment, Part 1
Most of the people in government have business interests and understand that for Mongolia to get to the next stage of their economic boom, they need to present an overall investment environment that is conscious of the possibilities of foreign misinterpretations, foreign media and foreign investors.
When government actions create instability in the markets due to their personal interests and issues with both Ivanhoe Mines' CEO Robert Friedland and China, issues and resentments that are shared by the public of Mongolia, and perhaps germane to important political grandstanding for June 2012's elections, they need to consider that there are long-term knock-on effects to these acts of gamesmanship that hurt investors' relationships with their whole country and not just the targeted issues.
Rio Tinto (RIO) is very close to buying out Ivanhoe Mines. When that deal is completed, Mr. Friedland will cease to have interests in Mongolia. There is no reason to kick up a dust storm about Mr. Friedland's prior activities at this juncture when he is so close to exiting the country and when doing so may harm the Mongolian economy, except for political grandstanding.
Investing Advice
In the meantime, in light of these events, I would suggest to investors looking to invest in Mongolia to watch for the markets to discount prices of Mongolia's listings until these issues are resolved. I think the secular long term story for Mongolia's economic boom remains intact. I believe after June 2012's elections, these issues will begin to resolve themselves. By the fall of this year, mining production of the country, and thus the country's GDP, will start to ramp up more significantly than previously. This GDP event that holds great promise through the end of the decade and beyond will be kicked off when Oyu Tolgoi begins production.
Thus, for the moment, the news cycle in Mongolia is destabilizing prices and creating excellent value investing opportunities in an economy ready to boom. The best entry point will likely be sometime between this week and late June. I am not good at calling bottoms, I only can foresee that current processes are causing instability in prices of Mongolia related listings that is favorable to those investors with a longer investing horizon.
Returning To Erdenes Tavan Tolgoi
Recent news about the arrest of former Prime Minister and President Enkhbayar on April 13, 2012, has distracted from other news events.
Dale Choi at Frontier Securities issued a translation from the government of Mongolia's website on April 11, 2012, regarding IPO shares of Erdenes Tavan Tolgoi that are to be issued to all citizens of Mongolia prior to the worldwide IPO of the same issue. All the detail is listed here, but the upshot is that citizens are each to be given 1072 shares of Erdenes Tavan Tolgoi, or citizens can opt to sell the shares back to the government which will then sell the shares onward to Mongolian corporations (and if that's enough detail, skip past this quote to the next section).
According to Government of Mongolia [in a] regular Cabinet Meeting issued a resolution regarding transfer of shares of Erdenes Tavantolgoi company to citizens and selling those to enterprises.

The work of transfer of up to 20% of shares to citizens will be organized in following manner

Within framework of Government's 98th resolution of 2011 to add 536 shares to citizens who already own the shares, to transfer 1072 shares to citizens newly born before validity of the resolution on March 31, 2011 and certain clauses of the resolution.

To deduct and account shares allocated as bounty and a shares from following citizens

i. Senior and developmentally challenged citizens who produced request to receive cash up to 1 million MNT from Human Development Fund according to 53rd resolution of the Parliament.

ii. Student to received bounty and a share in form of tuition payment for academic years 2010-2011/2011-2012.

iii. Citizens who received bounty and a share in form of health insurance payments in 2011.

State Property Committee, General Agency of Taxation and General Agency of State Registration each have been assigned to organize selling of up to 10 per cent of shares of Erdenes Tavantolgoi company to enterprises named in Parliament's 39th resolution of 2012 at nominal price in equal amount.

Minister of Social Protection and Labour T.Gandi, State Property Committee and Finance Minister D.Khayankhyarvaa each have been assigned to organize funding buyback of citizens' shares who would like to sell back to Government at nominal price from revenues from sales of the shares to enterprises according to Parliament's 57th resolution of 2011

State Property Committee has been assigned to organize abovementioned measures before IPO of Erdenes Tavantolgoi on international capital market.

Chief of Staff of the Government Ch.Khurelbaatar answered to questions of many citizens on how should they know if they have the shares

After approval of Human Development Fund, Human Development Fund Recordbook has been opened for every citizen. Duty has been assigned to record 536 shares in the Human Development Recordbook of every citizen and to Mongolian Stock Exchange and its affiliated registration centers to register those 536 shares to every citizen. Account for 536 shares have been opened for everyone. However, at moment they are not to be traded yet. At the specific time relevant decision regarding trading the shares will be issued. Citizens especially in remote areas should be wary of brokers and dealers opening accounts and charging 5000 MNT. In due time Government will make a decision and give direction to citizens.
Editorial Comment, Part 2
Plans for the distribution of IPO shares of Erdenes Tavan Tolgoi to citizens have in the past included a three year holding period on the shares distributed to citizens in order to:
allow for time for citizens to be educated about the value of their shares in Erdenes Tavan Tolgoi.
allow for all citizens to enjoy the appreciation in the value of their Erdenes Tavan Tolgoi shares from the IPO valuation of these share after listing in Hong Kong, and prior to their sale.
ensure the citizens against predatory practices of brokerages (which have risen from 49 in July 2011 to 88 in April 2012 for a country of 2.8 million people) that will encourage citizens to sell their shares for commissions while transferring the shares to wealthy brokerage clients.
ensure that shares of Erdenes Tavan Tolgoi, unlike the privatizations of previous state-run companies in the 1990s and 2000s do not get consolidated into the hands of the wealthiest Mongolians creating growth in the wealth gap among Mongolians.
use these shares not only to afford all citizens of Mongolia the opportunity to profit from the riches of Mongolia's natural resources, but also to use these shares as a tool to educate all citizens about how to profit from capital markets so that even nomadic herders in the most remote parts of Mongolia will be able to both continue their agricultural lifestyle that is integral to the national security of Mongolia's food supply and learn how to profit from Mongolia's economic boom driven by natural resources.
To the contrary:
Assigning a cohort from parliament and the cabinet "to organize funding buyback of citizens' shares who would like to sell back to Government at nominal price from revenues from sales of the shares to enterprises" runs contrary to the original spirit in which shares of Erdenes Tavan Tolgoi were to be issued to all citizens of Mongolia.
The procedures that are now being followed seems to be designed more to hand out cash in exchange for the distribution of tokens (the shares temporarily held by citizens prior to their buyback).
The government's offer of 1,000,000 Mongolian Tugrik (approximately U.S. $765) for 1,072 shares of this IPO seems to be akin to paying the citizens out for an exploration-stage company when they should receive the value of a production-stage IPO.
In the run-up to elections in June 2012 this feels like an unfortunate case of pandering to the public with free money rather than a government truly concerned about the long-term interests of its people and ensuring that every citizen of Mongolia, and not merely its elite, benefit from Mongolia's economic boom.
Individual investors should care about this issue. The economic boom of Mongolia will go into the dysfunction of Dutch Disease and other issues if the government fails to be mindful of how all citizens of the country will experience the successes of this mining boom. Simple and unstructured government handouts (such as the cash being proposed in exchange for Erdenes Tavan Tolgoi citizen IPO shares) create an additional inflationary pressure on the country without any added long-term societal value. For investors abroad and citizens in the country, inflation is a serious issue in a country where the GDP is expected to grow well in excess of 10% per year for the remainder of the decade.
Mongolia Has Come A Long Way And Has A Bright Future
It is often forgotten that Mongolia was the 2nd communist country in the world from 1921 forward. When the nation became democratic in the 1990s, it did so without the aid and assistance showered upon many former Central and Eastern European countries, or other Central Asian states that were formerly part of the Soviet Union. Mongolians forged their democracy and institutions with great strength and on their own, during a very difficult economic period, in the 1990s.
A lot of infrastructure folded up and left Mongolia when the former Soviet state pulled out of country. It was a challenging environment into which privatization and capitalism were introduced and embraced. For the first two decades of democracy in Mongolia, there was a very Wild West like environment where aggressive business practices were key to many individuals and companies that are wealthy today.
Today, the country is on the precipice of a transition into a more mature economy. The mining resources of the country relative to the population's size are massive and will create an economic boom. It is now beholden upon those who succeeded most in the first two decades of Mongolia's democracy to modify their capitalist behaviors with the economy's maturation. They must be the leaders of their country with an understanding that they will profit the most: (1) if the country's institutions show a maturation beyond the practices that brought the nation to this point of greatness, and (2) if all of Mongolia profits well from Mongolia's future success.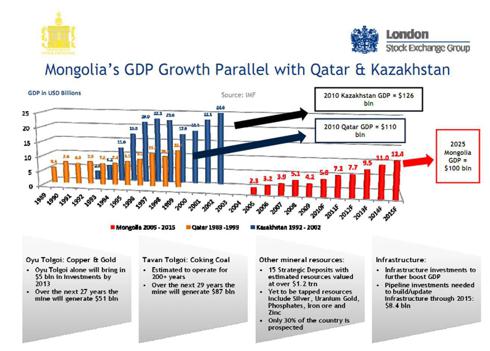 According to the London Stock Exchange, the trajectory of growth for Mongolia resembles that experienced previously by Qatar and Kazakhstan.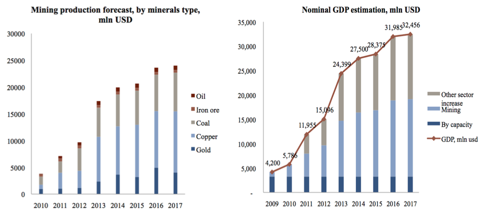 As mining production ramps up in the coming years, GDP growth is predicted to rise rapidly. Source: ACI Mongolia, The Financial Markets Association
Disclosure: I am long IVN.
Additional disclosure: This is a "no front-running zone." No trades were or will be placed for one week before or after publication of this article in any security mentioned in this article. Frontier Securities is one of four brokerages with which I have an account in Mongolia.