I could probably convince most investors to seriously consider a short sale of SemiLEDs (LEDS). I might not even have to mention what they do (manufacture LED chips), where the stock trades ($3.62 per share as of this writing), or how it has performed (down nearly 80% since its IPO in late 2010).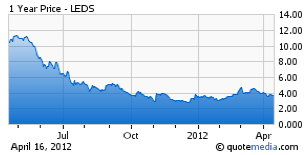 Instead, I could just point out that, in its fiscal second quarter ending January, revenue fell 21% year-over-year. More importantly, GAAP gross margin was negative 9 percent, with operating margin of negative 73 percent, leading to a cash burn of more than 10% of the company's previous cash balance.
The average investor would be intrigued at this point. But what if I also added that, in response, the company's CEO Trung Doan said on the earnings conference call that "our strategy is working", pointing to sequential revenue growth and expense control? Or that neither Doan nor CFO David Young appeared to have any solid answers for analysts in the Q&A portion of that call?
Of course, even LEDS bulls would admit that the company is struggling. The bull case for the company rests on future growth, in part driven by the LED adoption policies promoted in China's most recent Five Year Plan. As I noted in my review of the LED sector last month, the company itself noted its reliance on China in its most recent 10-K:
Given the significance of the China market as part of our business strategy, our net income growth and overall growth prospects are significantly dependent on the success of China SemiLEDs.
China SemiLEDs is a joint venture, in which SemiLEDs owns a 49% stake; the remainder is held by five Chinese entities, all of which are associated with the government. For the first six months of the fiscal year, China SemiLEDs created just $351,000 in revenues, posting a net loss of over $6 million. SemiLEDs was forced to write down the carrying value of that asset by 19% over the same time frame. When asked on the conference call when the JV might be accretive to earnings, CEO Doan replied that he didn't know.
Outside of China, the news looks hardly better. While the company has grown revenue sequentially from a bottom of $5.3 million in the August quarter, sales are still down sharply from the year-ago period (as noted, off 21% in the most recent quarter). Trailing twelve-month revenue is just $25.6 million, compared to $35.8 million in sales in FY2010 (ending August). More notably, the company's price-to-sales ratio still stands above 3.3, showing the growth required for its valuation (though perhaps mitigating the effect of its negative margins.)
In short, LEDS's currently unprofitable operations need rescue from a still-unstable, still-saturated, and highly competitive industry and/or a minority holding in a joint venture with state-owned companies in the powerful, but still shadowy, Chinese market. Neither of the possibilities warrant substantial investor capital at this point, particularly given the downside risk involved in LEDS. It has missed estimates in each of six quarters since going public, and burned $35 million over that time frame, while analysts expect continued losses through at least 2013. At current burn rates, the company looks to only have three years' worth of cash remaining -- and perhaps less. Even with a drop of nearly 80% from its $17 per share initial offering, LEDS looks to have further to fall -- perhaps all the way to zero.
Traders looking to short the stock need to be aware that LEDS will still be affected by its competitors; for instance, Cree (CREE) reports earnings on Tuesday, and its results will likely cause a sympathy move in LEDS (as well as Veeco Industries (VECO) and Aixtron SE (AIXG).) LED semiconductor stocks have generally been range-bound over the last few months, as expectations of a long, slow recovery have been built in. The stocks have moved strongly with the broad market (LEDS itself rose 50% in the month of February) and weakened by disappointing quarterly results (LEDS gave back a chunk of those gains after weak quarterly results at Aixtron).
The industry effect can be mitigated through a pairs trade with industry leader Cree (or value play VECO), but a naked short should still be of interest. LEDS has held a multiple bottom around $3 per share, but another weak quarterly earnings report for SemiLEDs or continued industry fears could push it through support. With such a weak profile, LEDS could plummet once support is broken.
None of the issues facing LEDS are particularly new, or should be particularly surprising. After a weak earnings report in July, TheStreet.com quoted Avian Securities analyst Andrew Abrams:
"I don't know too many IPOs that miss right off the bat and for consecutive quarters, that's a negative accomplishment...I looked at the filing when the company was first going public and my thought was 'It's so insignificant, why is it going public?' I asked guys in the LED sector who said, 'We never come up against them. They don't exist.'
The article's opening sentence was, "The big quarterly miss that's sending shares of LED sector niche player SemiLEDS lower in Thursday's after-hours session shouldn't be a surprise to anyone." Those words may have been written in July, but they're still true nine months later.
Disclosure: I have no positions in any stocks mentioned, but may initiate a short position in LEDS over the next 72 hours.