By GC Mays
Compass Minerals (CMP) managed to post rock solid profits in 2011 despite a Li Nina induced mild winter. However, Q1 earnings may have melted away due to the persistently warm weather as there were only 73 snow events in the company's 11 representative cities during the first quarter of the company's 2012 campaign. This was 52 percent less than the 153 snow events over the same period in 2011 and 37 percent less than the 10-year average of 115.5 snow events.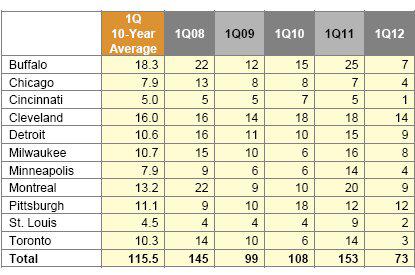 Source: Compass Minerals
The severe decline in snow events has resulted in sales of 3.1 million tons of de-icing salt during the first quarter, which is 27 percent lower than the first quarter of 2011 and the lowest total in the last five years. The percentage decline is a lot higher than company estimates of a 5 percent decline in volume during the quarter.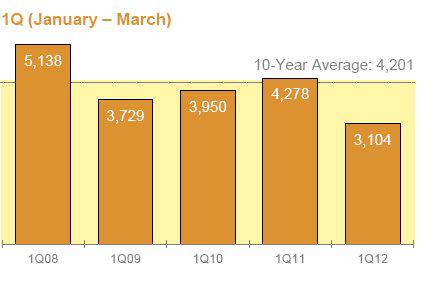 Source: Compass Minerals
The company also estimated a 5 percent reduction in average selling prices. Some of the Q1 sales volume was likely sold forward. However, unadjusted producer price data shows that prices actually increased moderately during the quarter.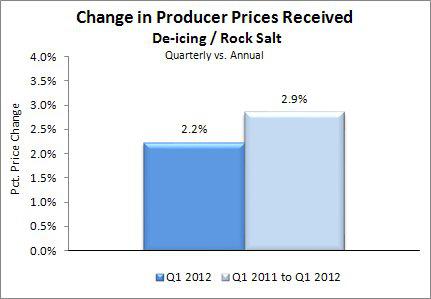 Source: The Mays Report
The company did not give actual sales volume data for sulfate of potash. However, they estimated sales volumes of 90,000 tons for the quarter at stable prices. Potash prices have been relatively stable during the quarter. On the cost side, the company estimated that there would be reduced production from their solar ponds in 2012, which would increase sulfate of potash per unit costs and cut gross margins. However, the company expects Q1 per unit costs to equal the company's 4th quarter costs.
The salt segment generates roughly 80 percent of company revenues, this huge reduction in sales volumes will have a material impact on revenues and earnings. Consensus EPS estimates of $1.52 is 10 percent less than last years earnings of $1.69 per share. With tons sold 27 percent lower than last year with the company having provided guidance of a 5 percent reduction I am expecting a sizable earnings miss.
However, if company earnings do in fact fall below consensus estimates it could create an opportunity for investors to buy the stock at attractive levels. After the company reported its Q4 and full year earnings I wrote an analysis of their 4th quarter and full year entitled, "Despite Headwinds, Compass Minerals Earned Rock Solid Profits", in which I wrote,
The stock is fairly valued at about $74.20. If the stock stumbled and dropped below $70 it would be an attractive pickup and would adequately compensate an investor for taking the risk versus holding a risk free asset.
Based on recent closing prices my fair value estimate of the stock has fallen to $72.80 per share, mostly because the agricultural chemicals peer group has performed poorly due to dealer demand issues. This earnings release may represent the best chance to acquire or add shares below $70.
The main risk in purchasing shares is the threat of a continuing drought into next winter, something the company has no control over. If that risk bears fruit the road could get rocky over the short to intermediate term.
Disclosure: I have no positions in any stocks mentioned, and no plans to initiate any positions within the next 72 hours.