The biotech group is among the largest in the market in terms of the number of companies, which number well over 300. Within the group, large-caps (those with market-caps over $5 billion) have well established commercialized product portfolios that generate revenues, and in most cases generate profitability. Micro-cap biotech companies (those with market-caps of less than $300 million) in contrast generally have no commercial products, but rather a pipeline of product candidates being tested in early- to sometimes mid- or late-stage clinical trials for a variety of disease conditions.
In between the two are mid-cap (between $1 billion and $5 billion in market-cap) and small-cap biotech (between $300 million and $1 billion in market-cap) companies, that in the case of small-cap are more biased towards clinical stage product portfolios, and in the case of mid-caps are more biased towards one or more commercialized products in their portfolio and a clinical development pipeline. Both due to the size of the sector, investor interest and the differing characteristics of the constituent companies, we have broken the sector by capitalization, and in this article we discuss the investing activities of the world's largest funds in mid-cap biotech stocks (other articles discussing the investing activities of mega funds in small-cap biotech and micro-cap biotech stocks can be accessed by clicking on the above hyperlinks).
These mega fund managers, such as Fidelity Investments, Goldman Sachs, and Vanguard Group, manage between $50 billion and over $700 billion each, and together control over 35% of the assets invested in the U.S. equity markets, but number just over 30 out of the tens of thousands of funds that invest in the U.S. equity markets. Together, they are bearish on the group, cutting a net $335 million in Q4 from their $1.83 billion prior quarter position in the group.
The following are the mid-cap biotech companies that these mega fund managers are most bullish about (see Table):
Alkermes Plc (ALKS): Alkermes, an integrated biotech company, develops injectable and oral products for the treatment of central nervous system disorders, addiction, diabetes and autoimmune disorders. Mega funds together added a net $715 million in Q4 to their $287 million prior quarter position in the company, and taken together mega funds hold 58.7% of the outstanding shares. The top buyers were mega fund Wellington Management, with $254 billion in 13-F assets ($298 million) and mutual fund powerhouse Fidelity Investments, with $492 billion in 13-F assets ($296 million), also the top holders at $298 million and $296 million respectively.
ALKS reported its Q4 about two months ago, beating revenues and earnings estimates, with revenues continuing to be on a strong growth trajectory, up 74% quarter-over-quarter, and up 185% year-over-year, while also continuing to post losses. Analysts continue to project strong revenue growth going forward, with another 35% growth from FY ending March 2012 to FY 2013. The stock trades at 2.5 P/B and 7.4 PSR (price-to-sales ratio), compared to averages of 10.0 and 68.9 for the biotech group.
Medivation Inc. (MDVN): MDVN develops novel small molecule drugs for the treatment of prostate cancer, Alzheimer's disease and Huntington's disease. Mega funds together added a net $146 million in Q4 to their $467 million prior quarter position in the company, and taken together mega funds hold 23.9% of the outstanding shares. The top buyer was Fidelity Investments ($69 million), and the top holders were mega fund Vanguard Group, with $1.6 trillion in assets under management ($121 million), and Fidelity Investments ($102 million).
MDVN shares have been among the biotech group's best performers lately, up over four-fold in the rally that began last November, and up over 60% YTD. The shares have risen on the back of positive results on its late-stage prostate cancer drug MDV3100 that reported in February of having met all efficacy endpoints in its phase 3 AFFIRM trial; the shares are also up based on the possibility of a take-out by partner Astellas Pharma. Also, last Wednesday, Citigroup named MDVN its Most Preferred stock due to the potential of MDV3100, based mostly on the success of Johnson & Johnson's (JNJ) ZYTIGA in prostate cancer, as it's MDV3100 is believed to be similar to ZYTIGA.
Amylin Pharmaceuticals (AMLN): AMLN develops drugs for the treatment of diabetes, obesity and other diseases. Mega funds together added a net $129 million in Q4 to their $1.68 billion prior quarter position in the company, and taken together mega funds hold 48.4% of the outstanding shares. The top buyer was mega fund T Rowe Price Associates ($65 million), and the top holders were Fidelity Investments ($509 million) and Wellington Management ($463 million).
AMLN shares have mounted a strong rally recently, up about 100% YTD, with the latest rally at the end of March after news broke that the company rejected a $3.5 billion unsolicited bid from Bristol-Myers Squib (BMY). A number of brokers since have spoken in favor of the company, speculating that it could see M&A interest from other drug makers, with AstraZeneca Plc (AZN) and Sanofi (SNY) mentioned as potential suitors. The BMY bid effectively puts a $22 floor on the stock, with speculative upside in case other potential suitors get into a bidding war to acquire the company, with the possibility remaining that AMLN could remain independent to realize the value of Bydueron for the treatment of type 1 and type 2 diabetes on its own.
The following are some additional mid-cap biotech stocks that mega funds bought in Q4 (see Table):
Besides these, mega funds based on their Q4 trading activity indicated that they are bearish on the following mid-cap biotech stocks (see Table):
Table
(click to enlarge)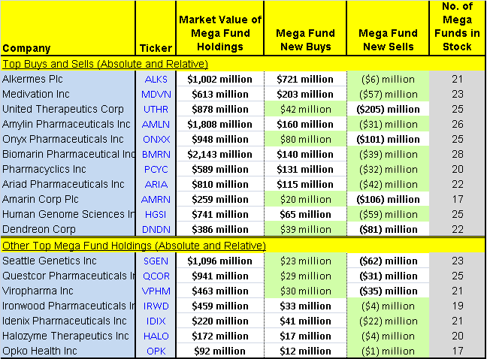 Note to Table: The companies selected to be included in both the Top Buys and Sells and Top Holdings categories in the Table were picked on both an absolute basis, i.e. the highest dollar amounts of buys and/or sells, as well as those amounts relative to their market-cap. That way, the list is not biased towards the largest companies in the group.
Credit: Fundamental data in this article were based on SEC filings, Zacks Investment Research, Thomson Reuters and Briefing.com. The information and data is believed to be accurate, but no guarantees or representations are made.
Disclosure: I have no positions in any stocks mentioned, and no plans to initiate any positions within the next 72 hours.
Disclaimer: Material presented here is for informational purposes only. Nothing in this article should be taken as a solicitation to purchase or sell securities. Before buying or selling any stock you should do your own research and reach your own conclusion. Further, these are our 'opinions' and we may be wrong. We may have positions in securities mentioned in this article. You should take this into consideration before acting on any advice given in this article. If this makes you uncomfortable, then do not listen to our thoughts and opinions. The contents of this article do not take into consideration your individual investment objectives so consult with your own financial adviser before making an investment decision. Investing includes certain risks including loss of principal.