It's earnings season, which means we are going to get a huge inflow of data that we will attempt to arrange into a forecast for the coming months as renewed fears about Spain eat away at our confidence and China's higher-than-expected inflation from April 9th (3.6% CPI versus 3.4% expected) and terrible GDP numbers from Friday April 13th (8.1% YoY versus 8.4% expected) scare investors away from the sensitive sectors, like commodities producers.
I am certainly worried about China numbers myself for the short term, although I think that long-term oriented investors may want to bring some cash into some specific sectors if the slide continues much further.
First, I would like to display a chart that I just made during my latest visit to the BEA (Bureau of Economic Analysis)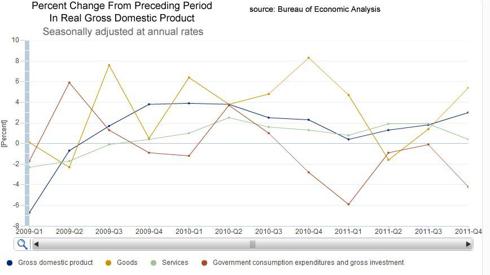 Click to enlarge
I think that despite weak prospects abroad, we are making a solid recovery in our goods-producing market. Yes, despite the huge hype surrounding America's transition from a goods-producing economy to a service economy in recent years, it's actually been the production of goods that has kept this recovery afloat.
In addition to this, I wanted to note that there has been continuing contraction in G (Government spending) since the end of 2010 at the same time that the goods producers grew an astounding ~8%.
The next chart goes back a bit further to demonstrate how the growth rates have evolved in the 8 years.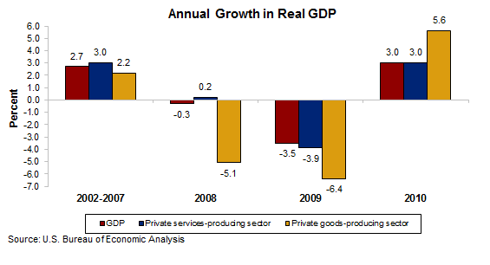 Click to enlarge
As you can see, after services outpaced goods for close to five years, and after goods production hit a brick wall in 2008 we are seeing an astounding recovery that has plenty of room to run.
Additionally, I think that the current trend in unemployment is encouraging. We have managed reasonable GDP growth with a miserable situation in the job market (on top of government spending contraction, severe turmoil in the financial markets due to sovereign debt crises, and emerging market slowdowns).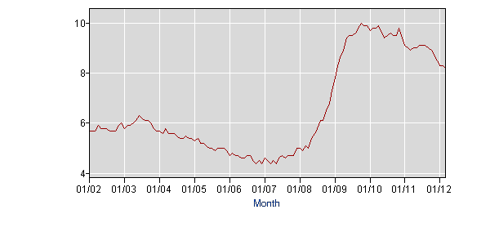 Click to enlarge
Source: Bureau of Labor Statistics
I think there are a few points that can be inferred from these broader themes.
Goods production in the US won't necessarily be outpaced by services. In fact, goods production has carried much of the US recovery since 2008/2009 and will continue to do so at this rate
Services may still struggle, especially with cost-cutting at financial and real-estate institutions and continued contraction of government spending and hiring
The stock market has more room to fall in the short to medium without fed intervention based on dismal news from March, but I highly doubt there is a bear market on the way given the economic growth we've had in real terms
To take advantage of these themes, one can begin to look at specific stocks that benefit the most from goods production. The most natural picks are American material and energy stocks. Then there are safer plays in consumer staples.
Despite an impressive beat to kick off earnings season, Alcoa (AA) lost significantly on Friday on general market pessimism on industrial metals that likely spawned from China's GDP report. Patient investors can take advantage if those shares drop too far. On Thursday (the 19th) we have Freeport-McMoRan's (FCX) report which will provide further insight into the health of copper demand (which should correlate quite intensely to material demand in general).
There are many smaller oil & gas companies that concentrate their business in the US (especially with our recent spike in petroleum production), but a broader way to buy into US energy is with the (XLE) ETF which holds a great variety.
Consumer staples? Go with (XLP).
In conclusion, the point of this article was to highlight the underestimated recovery in goods production in the United States in real terms. Drastic fluctuations in prices have caused fuzziness in the nominal data, but in real terms we see very clearly that goods demand has been just fine in the last few years. Prices will catch up eventually, and I'm not sure how the service economy will be able to catch up. Especially given that banks and real estate firms have been cost-cutting for so long.
Disclosure: I have no positions in any stocks mentioned, and no plans to initiate any positions within the next 72 hours.