Less Common Metals: Now For the Important Stuff
History
In 1992, Less Common Metals was founded by David Kennedy, Russell Grant, and a third individual. The company operated for 16 years as a standalone enterprise when the third founder, who at that time was the majority owner, passed away and his family desired to divest their stake in LCM. The other owners agreed to sell their stakes in the business so that it would be a clean sales process. The company was acquired by Great Western Minerals (OTCPK:GWMGF) on June 27, 2008.
In 2009, Molycorp (MCP) showed interest in acquiring Less Common Metals. However, they were only interested in Less Common Metals specifically whereas Great Western Minerals wanted Molycorp to acquire the entire company. There are different versions of how this courtship ended, but the end result was no deal.
Present Day
Currently, LCM is a relatively small scale operation. In 2010, LCM produced approximately 400 tonnes of alloy products. Of these production, 55% was SmCo alloy, 35% was book mold NdFeB alloy, and 10% was non-magnetic specialty alloys. The existing staff count is thirty one with a management team of less than five. The company operates out of its Birkenhead North facility in the Merseyside region of the United Kingdom which is located as part of an industrial park (picture of our editor outside the Birkenhead North facility below) but is in the process of constructing and installing equipment into its new facility in Hooton Park.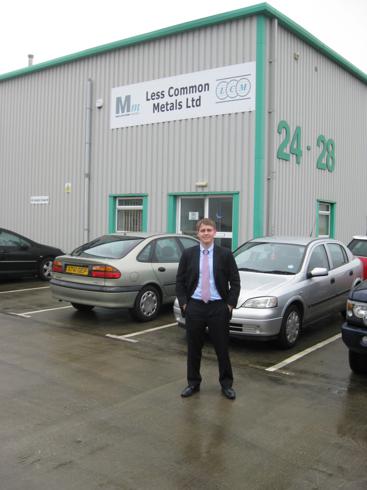 Our editor, Jon Christian Evensen, outside the front entrance to the LCM Birkenhead North facility
The existing Birkenhead North facility is 3600 m2 and includes 2 electrical sub-stations with the capacity to produce 1250 tonnes of product running at 3 shifts but currently is running at 700 tonne capacity with 2 shifts. Because of the furnaces installed at the facility, LCM could choose to dedicate its entire production capacity to SmCo alloy since "an induction furnace is an induction furnace". As we will explain later on, this creates significant option value going forward.
Hooton Park Facility
The new facility in Hooton Park is 16 km from the present site and will have a 6,600 m2 footprint. The facility will host five new strip cast NdFeB alloy furnaces with 600 kg melt capacities and running 3 shifts per day these five furnaces with have the capacity to produce 3,500-4,000 metric tonnes of NdFeB alloy per annum. In addition to these five strip cast furnaces, the pre-existing book mold NdFeB alloy furnace will be installed in the new facility also. Our editor visited it in addition to the Birkenhead North facility in mid-February (see photo below) and while he was not allowed to take any photos inside the facility, he did sketch out the planned layout of the facility (see below).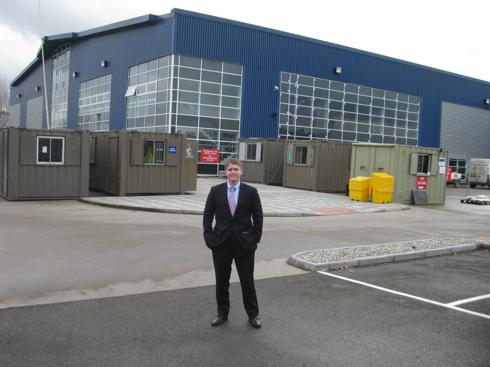 Top center and bottom left: Our editor, Jon Christian Evensen, outside the LCM Hooton Park facility under construction.
Bottom right: Our editor's sketch drawing of the final floor plan for the Hooton Park facility with NdFeB alloy furnace positions
When the Hooton Park facility is completed, the annual production capacity of LCM will be 4,000 total tonnes per annum of which 3,700 tonnes will be NdFeB alloy (breakdown will be approximately 3,000 strip cast, 700 book mold) and 280 tonnes of other production inclusive of its existing 220 tonnes of SmCo alloy production. Each furnace has a seven month lead time and one of the five strip cast furnaces is already installed. Assuming they are ordered and installed one at a time, we think it is perfectly reasonable to see LCM achieve this 4,000 tonne per annum alloy production in 2015 assuming a secure supply of raw materials. We are aware that there are plans for a potential sixth strip cast furnace, but we have not included it in our forecasts.
Product Quality
One of the key things in the alloy business is producing to customer specifications the first time. If product is not properly done the first time, it must be reprocessed which takes up furnace and personnel time that cannot be spent on additional product. What we were impressed to find at LCM was a very thorough lab team that checks all product.
Our editor learned on his visit that LCM historically tends to only produce one bad batch of product each month and in 2011 had only two customer complaints both of which were resolved expediently. We were very impressed with these figures because the alloy production business, like any midstream business, is all about delivering a quality product to the client that makes them happy and viewing LCM as a dependable source of alloy.
Metals: The Step Between Oxide and Alloy
LCM plans to purchase rare earth oxides and produce the metal required for alloy production internally from the purchased oxides. Each furnace will have six electrolysis cells dedicated to providing it neodymium or didymium metal. Each cell can produce 3 tons per month of metal, which works out to enable each furnace to achieve its 600 NdFeB alloy tonne nameplate annual capacity. It has to be remembered that because NdFeB alloy is only 31% rare earth content, one tonne of Nd metal can produce over 3 tonnes of NdFeB alloy but that the alloy sells per tonne for the same price as one tonne of metal. The metal to alloy process production cost is minimal in comparison to the revenue expansion from processing metals into rare earth alloys.
Risks
The key risk to the Less Common Metals business is a lack of raw material supply. In essence, while the rare earth export quotas created a massive opportunity for rare earth juniors focused on mine development it was a complete disaster for Less Common Metals because the facility could not secure raw materials and manufacture alloys at a price competitive to the product coming out of China.
The second risk is that elevated rare earth oxide prices (think summer 2011 levels) will force LCM to reduce their margins as at certain rare earth oxide price levels demand destruction for rare earths will occur.
The third major risk to Less Common Metals is "key man" risk. David Kennedy, co-founder of Less Common Metals, is currently working on the Steenkampskraal project in South Africa and Ian Higgins is the Managing Director at LCM. Both of these individuals represent key personnel and a part of the competitive advantage LCM enjoys in the rare earth midstream sector. Recall again how earlier we described the rare earth midstream sector as less capital intensive and more intellectual property intensive than the upstream portion of the supply chain. Of the experts we spoke with as part of our due diligence on Less Common Metals, David Kennedy was universally acclaimed with one expert saying that Mr. Kennedy was at the top of his list in terms of quality personnel in the rare earth sector. The opinion on Ian Higgins was of equally high praise. One individual involved in the rare earth sector when questioned indicated to us a belief that there is a protective non-compete clauses in Mr. Kennedy's employment contract with Great Western to prevent a rival rare earth company from poaching him away.
Advantages versus the Upstream
The rare earth midstream sector is in effect a margin business. As a result, the value of the business is not affected by the price of rare earth oxides except when the prices are extremely high and destroy demand or extremely low and compress margins. As a result, when discussing LCM we need to look at it the same way we would look at a pipeline company. The value of LCM is determined by the continuing growth in the demand for rare earth permanent magnets and the constrained production capacity for the alloys necessary for the production of rare earth permanent magnets.
As a result, elevated rare earth oxide prices that diminish demand growth are inherently negative for Less Common Metals since reduced demand could force the company to produce below capacity or reduce pricing in order to maintain production levels.
Because of this, we view Great Western Minerals as a pure play on growing rare earth magnet demand and the emergence of a secure ROW supply of rare earth oxides.
Click here to go to:
Disclosure: I am long MCP, OTCPK:GWMGF, CODI, TAS.
Additional disclosure: The facts in this newsletter are believed by the Strategist to be accurate, but The Strategist cannot guarantee that they are. Nothing in this newsletter should be taken as a solicitation to purchase or sell securities. These are Mr. Evensen's opinions and he may be wrong. Principals, Editors, Writers, and Associates of The Strategist may have positions in securities mentioned in this newsletter. You should take this into account before acting on any advice given in this newsletter. If this concerns you, do not listen to or consider our opinions. Investing includes certain risks including potential loss of principal. The commentary of The Strategist does not take into consideration individual investment objectives, consult your own financial adviser before making investment decisions.