Renault (OTC:RNSDF) is a French automaker that designs, produces and markets passenger cars and light commercial vehicles. What most people don't know is that Renault holds substantial stakes in Nissan (OTCPK:NSANF), Volvo (VOLAF.PK), Daimler (OTCPK:DDAIF) and AvtoVaz (OTC:AVTZF). The company also owns 99% of Dacia and 80% of its JV with Samsung (OTC:SSNLF) (Renault Samsung Motors).
Besides this, the company also owns RCI Banque, a financing arm that provides automotive financing for all three of Renault's brands.
The diagram below sums up Renault's stakes:

Renault is an ideal candidate to use a SOTP analysis. Of the 6 stakes Renault has, 4 are public companies [Nissan (OTCPK:NSANF), Volvo (OTC:VOLAF), Daimler (OTCPK:DDAIF) and AvtoVaz (OTC:AVTZF)], so it is easy to know how much each stake is worth.
The table below shows the SOTP analysis.
Valuing the stakes is very straight forward. I just took the # of shares Renault owns in each company, multiplied them by their respective price and converted Nissan, Volvo and AvtoVaz's values to EUR.
As for the automotive debt, you can get the figures from Renault's annual report.
Finally, I decided to value RCI Banque at book value as it has been consistently profitable. Below is a table with RCI's profits during the past years.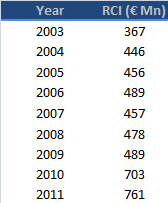 All said and done, according to my SOTP valuation Renault has a 79% upside. Note that I am not assigning any value to Dacia, the JV with Samsung or Renault itself. I'm just leaving this as a free option on top of the stakes and financing unit.
After valuing Renault I think it is very important to check how this discount to the SOTP valuation has evolved during the last several years. I calculated this since 2000:
As you can see Renault traded at a discount to the SOTP in 2002-2005, and started trading again at a discount in mid 2009. Despite this, the discount has never been as large as in recent months, with the upside reaching more than 100% in the last quarter of 2011.
In the Value Investor Insight March 2005 issue David Einhorn gives the case for Renault (page 9). At this time the discount was about 10% ...
My take
The auto sector is not my favorite. Companies are usually over leveraged and have high fixed costs making the sector to be very cyclical.
Renault has a highly unionized workforce and the French Republic has a 15% stake in the company, which it may use to influence Renaults capital allocation decisions (i.e. where to place factories). Also Renault has no real moat, the cars are good but there is nothing that differentiates them from other similar brands (i.e. Citroen, Peugeot, Seat, ...).
Despite this, the discount to the SOTP is wide, and remember that this assigns no value to Renault itself, providing a large margin of safety for an investment in the company. Plus Carlos Ghosn, the CEO of Renault and Nissan, recently said that he wants to fix the market's perception that Renault's core business not worth nothing.
I expect this discount to correct over time.
Disclosure: I am long OTC:RNSDF. Be careful with the ADR, it is very illiquid. Renault's shares trade on the Paris exchange and are very liquid there.