European Crisis Threatens U.S. Recovery
One of my favorite vacations was a trip from the French Riviera, along the Spanish Coast ending at the Italian Riviera. It is absolutely stunning and everybody seemed to live so well. They wouldn't even let me enter the casino in Monaco without a James Bond type jacket. Now I know why … they were all living on borrowed money and well past their means. Now they're all broke and if the market is right, Spain and Italy are heading on the same path as Greece, which will most certainly send shockwaves back to the U.S.
The U.S. appears to be holding up better than most of the world due to the unprecedented stimulus from the Federal Reserve. There is no real demand in an economy where the baby boomers, the bulk of the population, are well past their peak spending years as well as being indebted out the wazoo. The QE programs have been keeping our economy on life support, but QE2 is due to start to wear off by the summer. This will most certainly bring about a QE3, which will probably be the last. It will help stocks initially, but likely will lead to a top in the stock market, which is set to peak sometime this year. At some point, everyone will realize that the ECB (European Central Bank) and U.S. stimulus plans are not going to work to create a sustainable recovery, and government bond rates will rise, choking off the Fed's fuel for the printing presses fire.
The economy may give the impression that a true recovery is underway, but without the massive stimulus, we'd be sunk. The truth is that the workforce has dropped by 10 million jobs since July 2008 and has gained only 4 million jobs back. The percentage of people of working age in the workforce has been falling for the last several years, from 63.3% in January 2008 to as low as 58.1% in May 2011 and is at 58.6% currently.
Percent of Those of Working Age That Are Employed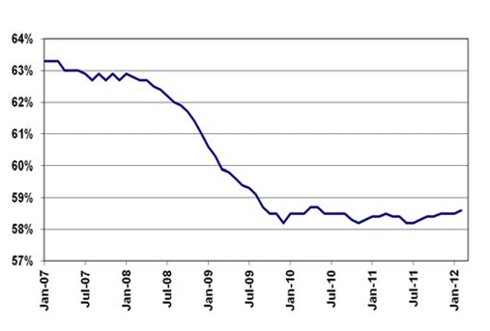 Click to enlarge
(Click to enlarge)
At worst, over 7 million people have disappeared from the workforce! That is why Fed Chairman Ben Bernanke warned recently that the job market may not be as strong as recent job reports indicate, suggesting more free money was on its way. Unfortunately these problems are not going away anytime soon as the massive global de-leveraging process accompanied with demographic challenges have a firm grip on world economies and won't let go for several more years.
There's still plenty of upside left if the Fed continues its easing and gives a QE3, which will be a boon for commodity type stocks and really benefit Barrick Gold Corp (ABX), SPDR Gold Shares (GLD), Market Vectors Gold Miners ETF (GDX), Newmont Mining Corp. (NEM), Goldcorp. (GG), Freeport-McMoRan Copper & Gold Inc. (FCX), PowerShares DB Gold Double Long ETN (DGP) for the not so faint of heart, plus Silver Wheaton Corp. (SLW) and ProShares Ultra Silver (AGQ) and Fortuna Silver Mines (FSM).
If we see this, growth investors can still approach the SPDR S & P 500 (SPY), SPDR Select Sector Fund - Financial (XLF), iShares MSCI Emerging Index Fund (EEM), Emerging Markets Consumer ETF (ECON), PowerShares QQQ Trust, Series 1 (QQQ), iShares Russell 2000 (IWM) and iShares FTSE China 25 Index Fund (FXI).
Of course, the more aggressive investor will want more kick and look more towards the likes of Apple (AAPL), Google (GOOG), Intel Corporation (INTC), Qualcomm (NASDAQ:QCOM), Microsoft (MSFT), Cisco Systems (CSCO), Dell (DELL), Caterpillar (CAT), General Electric (GE) and Yahoo (YHOO), Red Hat Inc. (RHT), Schlumberger (SLB), VMware Inc. (VMW).
We are all aware that the answer to the problem of too much debt is NOT more debt, and at some point the Fed's printing of money will stop. That day will be quite a wake-up call and come without warning, and investors who are unprepared will be devastated. Be the expert or hire one.
Managing money, especially your own, is a daunting task. There are plenty of ways to make money in this market but the key is to do it without all the risk. Most certainly avoid Buy-and-hold ("buy-and-hope" - hope is not a strategy) and focus on an actively managed, tactical approach for your finances which takes advantage of what the market gives you and focusing on the sweet spot in the market.
Disclosure: I have no positions in any stocks mentioned, and no plans to initiate any positions within the next 72 hours.