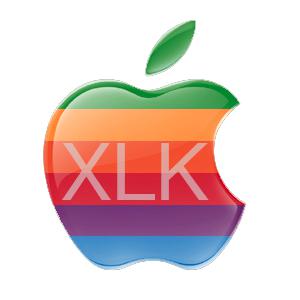 Mae West famously said: "Too much of a good thing is wonderful". However, that notion has been backfiring the past trading week as Apple's (NASDAQ:AAPL) heavy weighting in most tech ETFs like XLK (SPDR Technology Sector ETF) is causing some pain.
XLK, like other Tech ETFs, is linked to indices with Apple weightings of 15-20%. When times are good for Apple, and they certainly have been, tech ETFs have gone with the flow. Recently some negative news has crept into the stock price. First was the eBook publishing issue where the company was accused of unlawfully pricing books. Next some analysts have wondered if potential iGadget buyers will pony up for upgrades to newer pricier models so quickly.
But perhaps more significant to my view was the high level of call options being purchased by small investors betting on another parabolic price rise. This smells of too much speculation by the wrong crowd meaning they'll likely get burnt.
So, as the stock is starting to correct so too are most ETFs with indexes heavily weighted by Apple. It's the downside of the heavy weighting. Let's compare, as we did just two weeks ago, the trend in an ETF like SPDR Technology Sector ETF versus the most popular equal-weight tech ETF, Rydex S&P Equal Weight Technology ETF (RYT).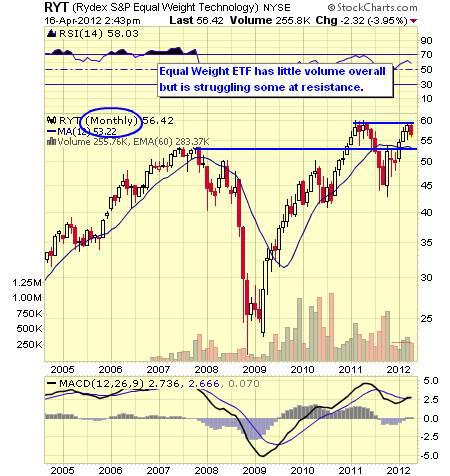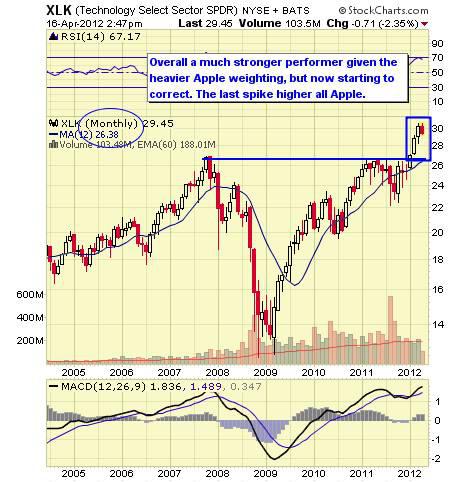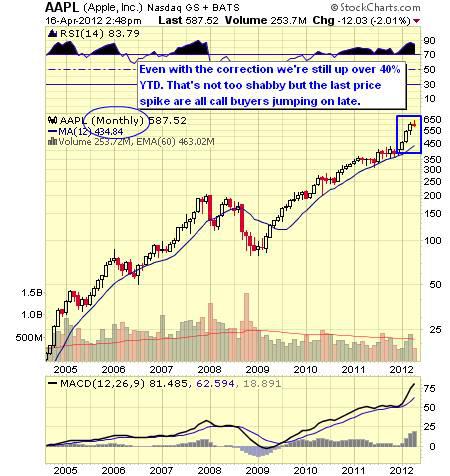 The moral of the story: When you see too many call buyers piling in, watch out since too much of a good thing can be not so wonderful.
Disclosure: I am long XLK.