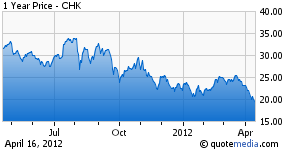 Last time I looked at Chesapeake Energy (CHK) the stock was sitting at around $23/share.
Now, despite enormous huffing-and-puffing by management, including the planned spin-off of its oilfield services unit, the stock is at $19.19.
CHK bulls will say I'm picking on the company, but its performance is actually better than those of other companies deeply involved in the eastern gas play. Cabot Oil & Gas (COG) is down 22% year to date. Rex Energy (REXX) is down 37%. Exco Resources (XCO) is down over 43%.
The Marcellus player doing best so far this year is Anadarko Petroleum (APC). It's has cut its Marcellus rig count by 40% and, since it's diversified with lots of oil, the stock is down less than 4% for the year.
The reason for all this is obvious and the lesson clear.
The natural gas glut is continuing with prices hovering at around $2/mcf. Some say companies need prices of $5/mcf to break even.

Energy plays that are heaviest in natural gas and lightest in oil and other liquids, like the Marcellus Shale, are thus in deepest trouble.
To CHK's credit, the company is doing all it can in terms of financial engineering to get out of the mess the glut has created. That may be why Dividend Kings keeps pounding the table for the stock, calling it a strong play in energy and likely to outshine its peers.
But there's also a lot of denial here at Seeking Alpha concerning the length and breadth of the glut on offer. Some folks here think the recovery will be v-shaped, not u-shaped. Stock Croc thinks CHK will race upward as the price of gas rises. Trent Guinn calls CHK a strong bet on natural gas vehicles.
But here's the thing. All the bulls can't be right.
What CHK has been doing is emphasizing its plays on liquids and oil, drilling them as fast as ever it can, trumpeting those finds, and raising as much cash as it can to make up for its natural gas problems by whatever means necessary.
As a strategy, it obviously beats sitting back and taking it, as XCO is doing. This is reflected in the behavior of the two stocks. Since rejecting a buyout offer last year, XCO's only headlines have been from failing to sell a pipeline and fattening the pay packet of its CEO.
But the result of all CHK's financial work is to reduce its ability to rebound if natural gas prices rebound strongly. It is leveraging toward oil and natural gas liquids, fighting to stay afloat, and while I applaud the effort, I question whether those who are bullish on the commodity are right to remain so bullish on the stock.
If those who are bullish on natural gas as a commodity are right, then the best gains going forward would come from those companies that are maintaining their plays in the field and taking the hits, like XCO, REXX, and COG. If those who are bullish on CHK management are right, then it may be the only Marcellus player to get out of this tailspin alive.
Disclosure: I have no positions in any stocks mentioned, and no plans to initiate any positions within the next 72 hours.