I told close friends and my business assistant that this would happen. Last year's $10,000 portfolio went too well. It started in August, doubled in no time and ended up topping out close to $40,000 in early 2012. I decided to up the ante and challenge myself to turn a simulated $100,000 portfolio into $500,000 by the end of this year. The last time I looked at this portfolio was right around the time of my last update - March 22, 2012. Thankfully, I am running a primarily simulated portfolio here because, at this juncture, things do not look all that great.
There's a lesson to be learned here. Even if you're a buy-and-hold type investor, you've got to mind your portfolio. I'm not saying you need to sell right when a position pulls back or flat out tanks, but it's nice to have your finger on the pulse. With the last day to trade April options coming Friday, I decided to take a look. I do not like some of what I see.
Here's a rundown of where things stand, as of Monday's close, followed by what I am going to do to start yanking this thing out of the ditch.
Long 200 shares of Amazon.com (AMZN). Short 2 AMZN April $190 calls. Value: $37,100 (+ $196).
Long 2,000 shares of Pandora (P). Value: $16,540 (- $5,460). Translation: OUCH!
Long 200 Wendy's (WEN) January 2013 $5 calls. Value: $10,000. (- $1,000).
Short 5000 shares of Sirius XM (SIRI) from $2.28. ( +550).
Long 5 Lululemon (LULU) September $75 calls. Value: $4,025 (+ $725).
Long 25 LULU September $75 calls. Value: $20,125 (+ 1,875).
Long 5 Krispy Kreme (KKD) August $10 puts. Value: $1,400 (+ 250).
Cash balance: $10,770.
Total Portfolio Value: $99,960.
For a quick and dirty summary: We're basically back where we started.
There's no reason to touch the AMZN position. I will write another couple covered calls against it next week.
P is what's really killing this thing right now. As I have noted in several previous articles, the long-term story at Pandora remains more intact than ever. The company keeps on doing all the right things. And, finally, a major media outlet - The New York Times - tells a part of the story that often gets ignored. Pandora continues to take advertising dollars once, for all intents and purposes, reserved for broadcast radio:
Pandora's pitch to advertisers is that its technology can cater to consumers with far greater precision than radio - it can pinpoint listeners by age and sex, ZIP code or even musical taste - and that as it grows, Pandora will effectively be the top station in many cities ...

This year, Pandora has had 400 local advertising campaigns across the country. One new client was Planet Honda in Union, N.J., whose president, William Feinstein, said he gave up on terrestrial radio years ago because he felt it cast too wide and expensive a demographic net.

But attracted by Pandora's ZIP-code targeting, he spent $10,000 to advertise on the service in January. IPhone traffic to his Web site - which he attributes to the ads - more than quadrupled, Mr. Feinstein said, and so he increased his spending to $15,000, then $20,000.

"A light bulb went off," he said at Pandora's party, holding a glass of wine. "We don't need to buy five radio stations. We can buy one."
At first glance, those numbers seem small. But remember several things. One, this is "only" local advertising; it does not count more lucrative regional and national buys. And, second, Pandora is in the process of ramping up its nationwide sales team. If it can be the radio station in multiple major markets, it can pull in considerable local ad revenue.
Right now, if we estimate Pandora collects $15,000 from each of the 400 local advertisers it counts, it is generating about $6,000,000 on that front. For a glimpse into the potential it has only just started to tap, take a look at terrestrial radio's top ten billers for 2011, pulled from the daily email blast Radio-Info.com sends me: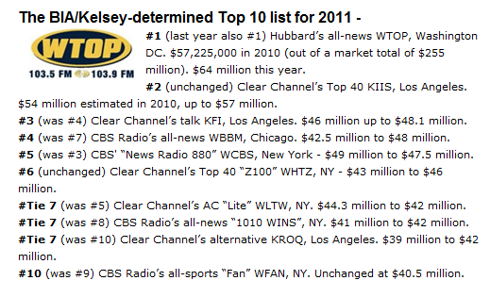 Click to enlarge
(Click to enlarge)
Granted, those stations are clustered in just four markets, particularly New York and Los Angeles, cities where terrestrial radio grabs much of its local ad dollars. Even so, you can do the math and come up with even conservative ballpark figures to model Pandora's potential growth in local.
Here's something to get you started: The top 10 billers brought in a combined $477.1 million. As the screenshot shows, Washington, D.C. radio stations sold $255 million worth of advertising in 2011. According to eMarketer, radio will bill $16.7 billion as an industry in 2012. If Pandora captures just a small percentage of that pie, it will find itself sitting on relatively large and exponentially growing local ad revenue. The writing is on the wall; it's coming after that money, just as it's coming after its share of mobile ad dollars. So, again, there's no reason to sell because there's no reason not to remain bullish long-term.
That said, this is a highly speculative play that does not mesh with many investor's situations. You need a long-term time horizon and a pot of speculative cash, separate from your portfolio's core, you can use to slowly scale into the position. That's how I am playing it in real-life; however, in this aggressive portfolio we hit it a bit harder.
To follow that bullishness, I am buying 1,000 more shares of P at $8.27, bring my average down to $10.03 and the $100,000 portfolio's cash balance to $2,500. Against my 3,000 shares, I intend to write some covered calls, but I want to wait and see how responsive the stock is on the rebound.
There's no reason to mess around with the WEN, SIRI, LULU or KKD positions right now. The long-term bull or bear case for each remains solid, particularly on LULU. This puppy has $100 written all over it by the end of the year.
After April options expire, we'll reevaluate things. I run the risk of getting my AMZN shares called away, which would free up some serious cash to make more moves. At this point, I am thinking about putting it all on LULU. Expect an update that will focus on options strategies to generate income early-to-mid next week.