Many professional investors and money managers consider Warren Buffett to be one the best long-term investors out there, especially among those investing within the public equity markets. His company, Berkshire Hathaway, is a holding company that maintains several large positions in well-known American companies. The majority of Berkshire's large publicly traded investments also have above-average dividends and a track record of growing them over time.
Below is a recent performance chart of Berkshire Hathaway's B-class shares (NYSE:BRK.B).
Click to enlarge
Click to enlarge
Both individual and institutional investors keep track of What Warren Buffett buys, acknowledging Berkshire's prior success, the potential for future success and the extreme likelihood that other investors will mimic Buffett's decisions.
Below are Warren Buffett's five largest equity investments, according Berkshire Hathaway's last 13F quarterly filing: Coca-Cola (KO), International Business Machines (IBM), Wells Fargo (WFC), American Express (AXP) and Procter & Gamble (PG).
Each of these investments is sizable with valuations between about five and fourteen billion U.S. dollars. The next 13F filing is due in about a month.
In the table, below, I have provided the one month, 2012-to-date and 1-year performance rates for each of the above-listed equities, as well as their present yields.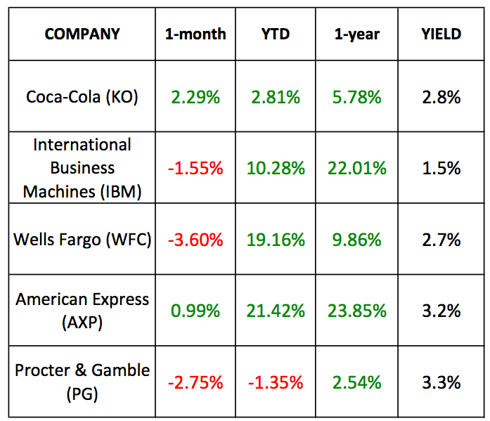 Click to enlarge
So far this year, these five large cap U.S. equities have appreciated 10.46 percent, outperforming the 8.96 percent that the broader S&P 500 has gained. Additionally, over the last month, these five equities are down an average of 0.92 percent, while the S&P 500 has declined 2.31 percent.
Since the start of 2012, the best performing listed equities are AXP and WFC, both of which are financials. The financial sector has included some the stronger performing equities since the start of the year, along with several technology equities. Last week, WFC reported a reasonably strong first Q1 report, largely on the back of continued mortgage refinancing activity.
So far this year, Berkishire Hathaway shares are up about 3.16 percent.
Disclaimer: This article is intended to be informative and should not be construed as personalized advice as it does not take into account your specific situation or objectives.
Disclosure: I have no positions in any stocks mentioned, and no plans to initiate any positions within the next 72 hours.