There once was a little boy who was a hopeless optimist. This young boy would find something good in every circumstance that life threw his way. When his high school football team lost the state championship, the boy reminded everyone that they shouldn't be upset. After all, there were 22 starters returning to the team next year. "We'll only be better!" he told them.
No matter what happened, this boy would never lose his spirit of optimism and he would always find a "silver lining in every cloud." He was so optimistic, that his parents began to worry. They thought, "Life can be tough and it can present challenges that our son will have to learn how to accept."
Now this boy wanted a pony more than anything else in life. He would pray every night that he would wake up the next morning and find "his pony" waiting for him in the yard. His parents thought that perhaps they could teach their boy a valuable lesson. So, they ordered a truck load of horse manure and had it piled up in their front yard one evening.
The next morning, when the little boy woke up, he went outside and saw the pile of horse manure. He ran out to the pile, scrambled up to the top, and began digging with his bare hands! When his parents saw what he was doing, they rushed outside and yelled at him, "Boy, what are you doing?"
Grinning ear to ear, he replied: "With all this horse manure, there just has to be a pony in here somewhere!"
WHAT I KNOW:
It is not easy being an optimist. There is always someone who wants to point out that you are not good enough, not fast enough, not smart enough, not big enough, not strong enough, not bright enough. People love raining on your parade. They're the pessimists, folks. Don't be one of them.
Every one of us can share a story or two of when life dealt us a cruel blow. How we handled it and how we moved on from it will make all the difference in the world during the rest of your life.
You can hold on to the bad thing and keep reminding yourself how this one event kept you from reaching your goals or becoming the person you should have been, but what you are really doing is finding an excuse so that you will never become the person that you were destined to be or have the life that you were destined to have.
WHAT YOU NEED TO KNOW:
As stock investors, we invest in companies that we think will return us a gain on our investment. Most of us would prefer to purchase stock in a given company at what we call a "bargain" or value price. If the stock pays us a dividend and the stock price is a value, that's even better for someone like me.
But there are as many people out there telling us that this company that we are interested in, is a terrible investment-even at these ridiculously low prices.
The metrics by which we have traditionally rated a potential stock purchase are criticized. For every article that is positive about a particular company, another is equally negative.
The stock articles are presenting the "horse manure." It's your job to dig through all that horse manure to "find the pony." How do we do that?
LET'S CONSIDER THIS:
Banking and Finance:
For many investors, this category is a pile of horse manure. Most folks would not be investing in Banking and Finance stocks because, let's face it, the recent implosion in the sector has left many investors looking for other places to take their money. I don't pretend to be an expert on banking and finance. I'm not. But I do know that there is no way that Citi (C) should be selling for $23.53 in November of last year. I also know that JPMorgan Chase (JPM) shouldn't have been selling for $28.50 around the same time.
But, let's face it, most people didn't think very much of this sector six months ago. They assumed that there weren't any ponies in this pile of manure. But, who was right? The pessimists or the optimists? Let's take a look, shall we?
What we have below is a table that lists different financial categories. I just ran a simple screen and this is what the results were. What intrigues me is how strong the results are for the last 6 months. Basically, this table looks at the results since around October of last year through the market close this Friday, April 12.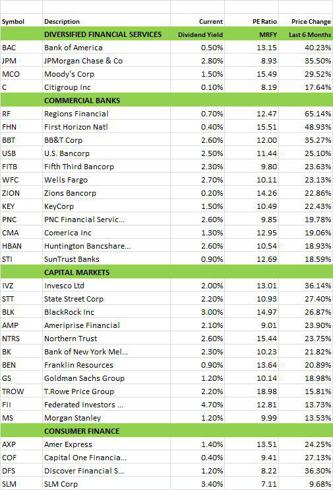 AN OBSERVATION:
Let's look for a moment at of the one of the larger companies on this list. Let's say that on October 3rd, you decided that JPM was selling for a price that indicated a value. At the open of the market that day, JPM was selling for $30.03 a share.
Now the market did not do very well on October 3rd. In fact, the market was down that day. Neither did your JPM purchase at $30.03. At the end of the day, JPM closed at $28.65, which was 4.8% down for the day.
By October 28, JPM had rallied to a closing price of $36.67 a share. That was a 22% gain in 30 days! Man, you found the pony! Not only that, JPM was paying a dividend of $1.00 a share, so you bought it with a 3% dividend yield!
But, by the time November 25th rolled around, JPM closed the day at $28.38 down 29% from its high just 30 days earlier. I hate that damned pony.
Now, something interesting happened. A lot more people than just you saw what happened with JPM. Some people even saw a bargain in Citi . How could Citi be possibly selling for a split adjusted $2.30 a share on November 25th? How in the world could Wells Fargo (WFC) be selling for $23.19? How in the world could Regions Bank (if you're from the South, you know them) be selling for $3.50 a share?
CONCLUSION:
Looking at the table above, there was a herd of ponies out there six months ago, in the manure pile known as "Finance and Banking." I would argue that there are more ponies to be discovered. All you need to do is get on top of the pile and dig.