Exxon Mobil (NYSE:XOM) is the largest company in the world. It's the juggernaut that keeps on giving to its shareholders.
Yet, Exxon as an individual holding may be too sensitive to everything from environmental laws to alternative technologies to erratic oil prices to world competition. (I think Exxon is a terrific core holding, but it's important to look at other opportunities.)
One possibility is to simplify one's approach. You think oil is going from $88 per barrel to $100 per barrel, then you might only want to deal with that thesis; specifically, you have investments like the Claymore MACROshares Oil Up Tradeable Shares (UCR) and the United States Oil Fund (NYSEARCA:USO). The former tracks the NYMEX Division Light Sweet Crude Oil Futures Contract whereas the latter follows the spot price of West Texas Intermediate Light Sweet Crude.
It should be noted that USO has been criticized a great deal for failing to capture the intended index in the past. That said, its volume is exceptionally large, making it the preferred method for profiting from rising oil prices. It's up 30% in the last 6 months!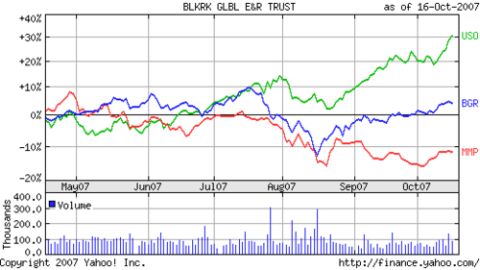 For those who have longer-term horizons for holding an "oil up" investment, there may be better mouse traps. For instance, an ETF equivalent (closed-end fund) for global energy demand goes by the name, BlackRock Global Energy and Resources Trust (NYSE:BGR). It invests in common stocks, preferred stocks, convertible securities, warrants, and depository receipts while serving a 5% annual yield distributed quarterly. (And it's 2-year track record smooths out the bumpy ride of ever-changing oil prices.)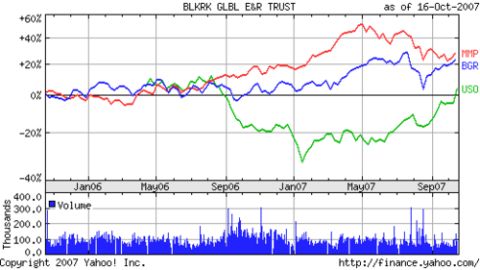 Notice that the United States Oil Fund (USO) (which has no dividend) went up, down and around for 2 years... never quite profiting from record oil prices. In contrast, BlackRock Global Energy and Resources Trust (BGR) offered quarterly dividends on a 5% yield and 20%+ capital appreciation.
Oil partnerships that trade on the exchanges may not be ETFs per se, but they are important for comparison. Magellan Midstream Partners, LP (NYSE:MMP) has a yield of 6%+ and a perfect record for raising its quarterly dividend since its 2001 inception. While it is a pipeline, and while gasoline distribution is not necessarily tied to the price of the refined commodity, it's hard to ignore a solid income producer in the oil patch.
MMP has pulled back nearly 20% since May and still has the superior performance over investment options in the chart above. A unique buying opportunity? Absolutely!
Keep in mind, in May/June/July/August, you had fears of rising interest rates. That meant that income investors could get the 5% yield that MMP was offering with far less risk. Now that rates are being slashed, and will continue to be lowered, a 6% yield in a proven producer is going to help Magellan Midstream Partners, LP (MMP) reclaim former glory.
Full Disclosure: Pacific Park Financial, Inc., a Registered Investment Adviser with the SEC, may hold positions in the ETFs, mutual funds and/or index funds mentioned above.