Dee Gill, who edits the YCharts Pro Investor Service, wrote an interesting article comparing Apple (AAPL) and Dell (DELL) based on return on equity.
Return on equity (ROE) measures a company's performance in generating profits from shareholder equity, which is essentially the net worth of the company (assets minus liabilities).
YCharts uses the following formula for ROE:
Return on Equity = Net Income / Average Common Shareholder's Equity
Many investors look at return on equity as an important fundamental metric, but when companies buy back shares of their own stock, it has a tendency to reduce shareholder equity. Given that shareholder equity is the denominator of the equation, reducing it can raise ROE figures if you're comparing stocks over similar time periods.
For example, here's a look at the return on equity, per YCharts.com data, for both Apple and Dell since 2007: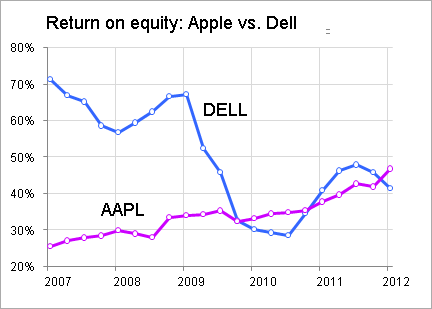 For much of the last few years, Dell's ROE was higher than Apple's. Yes it's true that Dell's ROE has been falling while Apple's has been rising, but Dell's ROE taken alone and out of context may still seem to represent a reasonable value when it may mean no such thing at all.
And the performance of the stocks shows that Dell shareholders probably would have preferred to own Apple all things considered.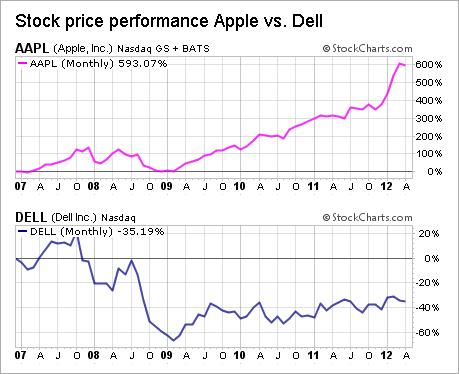 Why? According to Dee, Dell reduced its shareholder equity by buying back its own shares, and that "when that equity goes down, basic math makes ROE goes up, even if management is making mistakes on the ground. "
This chart, also from YCharts.com data, shows the change in shares outstanding for both companies since 2007.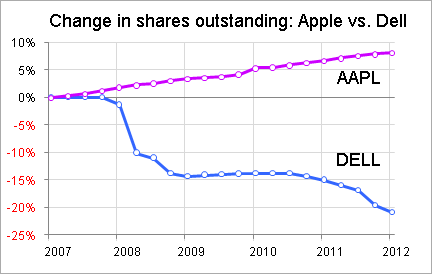 Dell has decreased its shares outstanding by 20% while Apple's went up by about 8%
Will Apple's plans to buy back its own stock impact its ROE? Perhaps. But that won't necessarily impact the company's overall performance for its shareholders - especially for a company with no debt and lots of cash. And that's what really counts, not numerators or denominators for equations that may not be equivalent from one company to the next.
This doesn't mean that buybacks are bad for shareholders. It simply shows that just because one company's return on equity is higher than another's doesn't necessarily mean that it's a better value.