A drop in the S&P 500 index that began two weeks ago is shaking the confidence of traders in more speculative plays. Companies that gave a less rosy outlook for the year were hit hard. Companies with shares trading below $10 and moving with more "beta" than the market warrant attention. Does the rapid share decline in the last month suggest a rebound is in the offering?
Below is a comparative chart of some of the companies underperforming the S&P 500 benchmark:
(click to enlarge)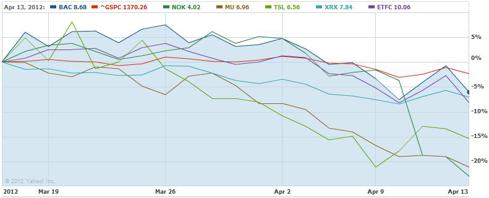 (Source: Yahoo Finance)
1) Bank of America (BAC) - Avoid
After doubling in 2012 to $10 in March, investors sold off shares in Bank of America. The financial sector led the market's 2012 rise, but negative sentiment for the health of the global economy is building. The negativity was precipitated by a weak March U.S. jobs report and slower growth in China.
Investors recall that Warren Buffett invested $5 billion in preferred shares and received warrants to buy 700 million shares at around $7.14. The preferred shares carry a 6% dividend, which is costing the bank $300 million annually.
Bank of America is scheduled to report earnings on Thursday, April 19. Analysts are expecting earnings to decline to $0.12 per share on revenue of $22.8 billion, compared to $0.17 and $26.9 billion revenue from the previous year. The bank improved its balance sheet in previous quarters by shedding costs, but big risks remain with the $8.5 billion mortgage backed security settlement. New York's attorney general, Eric Schneiderman, is opposing the deal.
With the easy money already made on Bank of America, investors should avoid investing in the bank until the liabilities are resolved.
2) Nokia Corporation (NOK) - Speculative Buy
Nokia dropped 26.9% last week, closing at $4.02, after the company lowered its outlook. The company did not see the next quarter (Q2) improving, as Nokia faced stiff competition in fast-growing developing markets and experienced margin pressure for its low-end devices. In Q1, Nokia had an operating margin of negative 3% on sales of 71 million mobile phones. Nokia sold 2 million Windows-based Lumia devices during the first quarter. The data connection glitch for the Lumia 900 after it was released in the United States received some media attention, but Nokia released a fix three days earlier than originally announced. The company is also giving a generous $100 credit to users in light of the glitch. This illustrates the level of support Nokia intends to provide for its newly acquired customers in the U.S.
Nokia is a speculative buy. It will take several quarters of flat margins before the Lumia gains any traction in the U.S. The plan by Microsoft (MSFT) to release Windows Phone 8 in October should help Nokia later this year.
3) Trina Solar Limited (TSL) - Avoid
Average selling prices for photovoltaic modules fell again recently. The module prices are now in the range of $0.80 to $0.85 per watt, a 10% drop from prices seen at the end of last year. Trina shares closed recently at $6.56 and are nearly flat for the year. During its last quarterly earnings report, Trina said it would differentiate itself from competitors by offering "honey technology-based modules."
The green energy sector is out of favor. This is illustrated by a recent cancellation of a high-profile IPO. BrightSource Energy, which builds solar thermal power plants, cancelled its initial public offering last week. The company was planning to raise $152 million.
Investors should continue to avoid Trina, until the company works through selling its inventory and receivables. Last quarter, Trina reported inventories of $250 million and accounts receivables of $467 million. Trina also had $289 million in short-term debt and $520 million in long-term debt.
4) Xerox Corporation (XRX) - Potential Buy
Author and investor Vitaliy Katsenelson wrote about Xerox as being a cash machine. He said that copiers represented only 20% of its revenue, half its revenue comes from service, but that gross margins were hurt last year due to the tsunami in Japan. Xerox, which closed recently at $7.85, won an $858 million data center services contract from the state of Texas, replacing IBM (IBM) in the process.
5) E*Trade Financial Corporation (ETFC) - Potential Buy
The decline in retail trading in March will hurt E*Trade. E*Trade ended last quarter on a stronger note. The company saw DARTs grow by 5%, cash increase by 13% (during 2011), and legacy loans decline by $3 billion (for 2011). A weaker trading environment pressured the share price of E*Trade, as shares closed at $10.06. E*Trade Pro Elite was a new product launched last year that should help the company grow earnings. The ongoing decline in exposure to risky loans should also improve the risk / reward profile for investors who want some exposure to online brokerage companies.
Disclosure: I have no positions in any stocks mentioned, but may initiate a long position in NOK over the next 72 hours.