By Brendan Gilmartin
Overview
Qualcomm (QCOM) is slated to report 2Q 2012 earnings after the close on Wednesday, April 17. The results are expected to come through at 4:00 p.m. EST, with a conference call slated to follow at 4:30 p.m. Sympathy Plays: NOK BRCM TXN.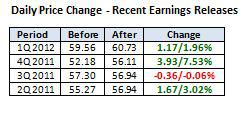 Outliers and Strategy
Key Measures:
Non-GAAP Earnings Per Share: For the 2Q 2012 period, Qualcomm previously indicated it expects Non-GAAP EPS of $0.91 to $0.97. Guidance tends to be conservative and actual results tend to come in at the high end of forecasts.
Revenues: Qualcomm said in January it expects 2Q revenue of $4.60 billion to $5.00 billion, an increase of 19% to 29% Y/Y.
Adjusted EPS Guidance and Revenue Guidance (3Q 2012): Guidance for the next quarter will be watched closely, given that results for the 4Q period are largely priced into the shares. The estimates are for adjusted EPS of $0.89 on revenue of $4.80 billion. (Source: Yahoo Finance)
At 23.92x trailing earnings, Qualcomm is trading at a discount to the 5-year average (24.2), but just 15.9x forward estimated profits. With an expected 5-year earnings growth rate of nearly 15%, the FWD PEG ratio is nearly 1.0.
Over the past several quarters, Qualcomm has benefited from its relationship with Apple (NASDAQ:AAPL), supplying chips for the popular iPhone device. In addition, the majority of Android devices run on Qualcomm chipsets.
Recent News
04/12: Credit Suisse raised its price target on Qualcomm from $70 to $80 and increased FY2012 and FY2013 EPS estimates, according to a report on Benzinga.com. The firm attributed the outlook to Qualcomm's position in the smart phone market entering 2012.
04/10: UBS reiterated a Buy rating and raised the price target on Qualcomm from $75 to $80, according to a post on StreetInsider.com. The positive outlook was based on a ramp-up in LTE adoption during the second half of the year. The firm also raised its earnings forecasts for FY2012 and FY2013.
04/03: Qualcomm announced a quarterly cash dividend of $0.25 per common share. The company boosted the dividend in early March by 16%. (The yield is now 1.51%).
03/06: Qualcomm announced a new $4.0 billion stock repurchase program to replace the prior $3.0 billion stock repurchase program, which had $948 million of repurchase authority remaining, net of put options outstanding.
Technical Review
Qualcomm shares are up more than 20% YTD, en route to a recent 52-week high of $68 on March 27. In the event of a very strong earnings release, that will be the initial resistance area. Despite the enthusiasm headed into the upcoming release, Qualcomm recently broke an uptrend bounce back to late December and took out the 20-Day SMA near $67.25. Shares are currently hovering above support near $66 - a level going back to mid-March. If earnings fail to meet the high end of the estimate range, there is downside risk toward the 50-day SMA at $64.50, with further downside risk to $62.00. (Chart courtesy of StockCharts.com)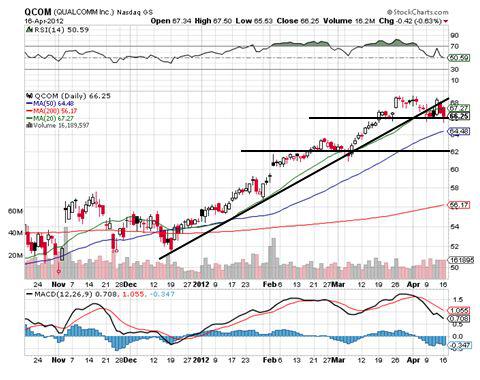 Summary
Qualcomm shares have been on an impressive run over the past several months, given its footprint in the smart phone market and supplier agreements with the likes of Apple and Google (NASDAQ:GOOG). But with the shares currently trading near a 12-year high and sell-side sentiment heavily bullish, Qualcomm shares are vulnerable to any missteps. Over the past week, the shares broke an uptrend that extends back to this past December. But with valuation at reasonable levels, a solid dividend yield, a recently increased buyback program and optimistic forecasts for smart phone and tablet sales into 2012, the market is looking for Qualcomm to deliver a stellar quarter and increased outlook for the balance of 2012.
Disclaimer: By using this report, you acknowledge that Selerity, Inc. is in no way liable for losses or gains arising out of commentary, analysis and or data in this report. Your investment decisions and recommendations are made entirely at your discretion. Selerity does not own securities in companies that they write about, is not an investment adviser, and the content contained herein is not an endorsement to buy or sell any securities. No content published as part of this report constitutes a recommendation that any particular investment, security, portfolio of securities, transaction or investment strategy is suitable for any specific person.
Disclosure: I have no positions in any stocks mentioned, and no plans to initiate any positions within the next 72 hours.