Gramercy Capital (GKK) is a mortgage REIT focused on originating and investing in various pieces of commercial loans. The company came public in August 2004 and has delivered solid performance ever since. In stark contrast to the troubles in the residential REIT universe, Gramercy has thrived on its investments in New York City and surrounding areas.
GKK reported third-quarter results after the bell on Wednesday, and the results were impressive. The company posts funds from operations [FFO] of $0.83/share and raised full-year FFO guidance to $3.00 - $3.05/share. Interestingly, Gramercy is one of the few mREITs to use FFO as a key metric -- likely attributable to its sponsor, equity REIT giant SL Green Corp (NYSE:SLG).
Much of Gramercy's earnings power this quarter, however, was due to a $92.2 million realized gain on sale of the Company's 45% interest in One Madison Avenue in Manhattan. Nonetheless, Gramercy continues to deliver quarter after quarter, and until the CRE market begins to show signs of stress, the Company is attractively valued at just over 1x book value and a yield of 9.8%. Moreover, GKK expects to declare a special dividend in the fourth quarter of 2007, as it has earned FFO of $2.36/share through the first nine months of 2007 but paid out dividends of just $1.82/share -- a payout ratio of just 77%.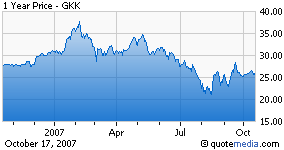 Disclosure: none