On Tuesday, the Reserve Bank of India (RBI) announced at its quarterly update meeting that interest rates will be cut by 50bps going forward. This is the first interest rate cut in India over the last three years. The amount of the cut was seen as aggressive and a welcome surprise to investors. The announcement of a cut was expected as the RBI has cut the cash reserve ratio for Indian banks twice this year in an effort to increase liquidity and economic growth. Markets in India immediately rallied on the news, hitting two week highs.
Here's a chart of the S&P CNX Nifty Index from the Financial Times displaying market gains of 1.2% on Tuesday's news.
(Click to enlarge)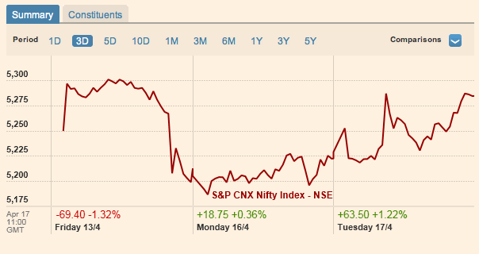 India markets have been troubled lately due to concerns about oil prices, inflation, slower economic growth and a flare up in the EU debt crisis. And although the rate cut was more than expected, the RBI expressed continued concerns about further rate cuts in light of inflation issues in India. Thus analysis out of India is pointing to the rally being short lived and the focus shifting toward inflation and economic growth numbers going forward as they are prime determiners of further liquidity moves by the RBI.
In early trading today, the largest India ETF, EPI from WisdomTree is currently experiencing gains of over 2%. The best performing India ETF in 2012, the MarketVectors India Small Cap (SCIF) is surging as well. Here's the quote from Yahoo Finance.


Here is the list of all India ETF and ETN products in the market via IndiaETFs.com.
(Click to enlarge)