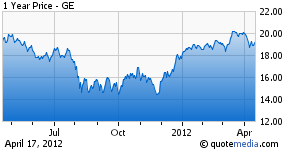 General Electric (GE) may very well be one of the most diversified companies in the world today. With branches in finance, aviation and energy, this company has managed to balance its widespread domains with sound managerial skills that have kept it competitive and profitable. At the time of writing, the stock was up around 2.4% from last year's first quarter, and I believe that this rise is at least partially due to GE's investment in clean energy projects around the world. It looks to like this company has recognized that the market is placing importance on the green economy for the future of investment.
In Australia, the country's largest solar photovoltaic project has been in the works for the past four months. GE has announced that the 10-megawatt solar farm is moving from initial construction to the installation of panels manufactured by First Solar (FSLR). This undertaking is expected to create a hundred jobs, which should be viewed favorably by the people living in the area, I expect, as long as GE hires locally as much as possible, creating positive relations with the community it is impacting could prevent problems now as well as in the future.
GE is also working with Marriott International (MAR) and others to improve energy efficiency through its LED lighting system. Importantly, in my view, GE has managed to design a product that saves power use by 66% without compromising on the appearance. This is why classy businesses like Marriott are interested, in my opinion, and this is one of the reasons why GE is staying on top. It knows how to combine the interests of multiple consumer bases, and in this case looks environmentally friendly. In this way, GE manages to put its effort and money into new designs that could then reach a wide range of potential buyers.
Furthermore, since GE is applying its technology in visible places where many people will pass through, like hotels, I believe that it will improve its image in the minds of those people. With so many citizens pushing for positive developments in the green energy sectors, at least a few guests at the Marriott are sure to take note of the efforts being made by GE to reduce electricity use.
Elsewhere, GE is building almost 300 wind turbines in Ontario for NextEra Energy Canada (NYSE:NEE), which will provide energy for around 120,000 homes in the Canadian province. This move might very well add to the company's credibility as an energy provider that is headed for the future and that cares about the quality of its consumers' lives.
Not only is GE engaged in producing high-quality energy conservation devices, this company is also pushing for standardization in the LED lighting industry by developing interchangeable light engine specifications as designated by the Zhaga Consortium, a group of lighting companies and others. At a recent Light+Building trade fair, GE unveiled its new design to much acclaim. If GE can set the standard for adaptable and easy-to-use LED lighting, then I believe it has a head start when compared to competitors like Honeywell International (NYSE:HON) or 3M (NYSE:MMM).
Honeywell has managed to churn out a steady stream of revenue from its relationship in shale drilling projects by providing drilling companies like Dow Chemical (NYSE:DOW) with a technology that enables them to convert propane into plastic. Yet, I feel that it lacks the apparent environmental awareness of GE, which I believe will turn a lot of ethical investors off as they search for greener pastures. While this boom has been pushing up the stock value of this company, I do not expect it to last much longer once the main drilling companies have purchased the technology, unless Honeywell comes up with another big idea to improve upon the existing equipment.
3M is in a similar state. This company hints at environmental awareness in products, like its EPA-approved LeadCheck Swabs, which allow building renovators to test drywall and plaster for the presence of lead. At the same time, 3M's waste incineration practices are under question in Cottage Grove, Washington, where residents are accusing the company of polluting the air with toxic by-products. 3M has established an undesirable reputation as an alleged polluter. Two years ago, the company was mired in a lawsuit regarding a chemical leak in Minnesota's segment of the Mississippi River that might have led to loss of natural resources in the area. Indeed, as greener companies encroach on its market, I expect that 3M will have to continue changing its approach toward managing its reputation.
Meanwhile, Honeywell has other problems that compound the losses I predict it will face due to its unappealing public image. It is in the middle of a patent lawsuit with Nest Labs over thermostat construction. Honeywell attacked Nest for allegedly infringing on copyright, and Nest recently responded that Honeywell is using patents to impede the start-up's intellectual progress. It will be up to the courts to decide the verdict, but in the meantime, Honeywell appears to be wasting a lot of time and money potentially protecting assets that it does not seem to be very interested in anyway, in my opinion.
Honeywell and Dow Chemical have both dropped the ball in terms of quarter-to-quarter growth, with a decrease of over 100% each for both companies. This is an indicator to me of uncertainty about the companies' ability to sustain growth in the long-term, especially since neither company appears to be making much of an effort to follow the market's demand for greener energy. At the end of the day, GE looks like one of the few stocks that are actually paying attention to what consumers are asking for, which tells me that this is a stock with the ability to adapt, and to me, that is something worth investing in.
Disclosure: I have no positions in any stocks mentioned, and no plans to initiate any positions within the next 72 hours.