Apple (AAPL) has been dominating the tech headlines - with good reason - as it has the market cap and revenue to push around most of its peers. However, for the exchange traded fund investor who is worried about the heavy hand Apple is playing on their overall portfolio, it may be time to consider an equal-weight methodology instead.
For example, the Dow was up 120 points on Monday afternoon but the Nasdaq Composite was in the red. Much of the divergence was due to the heavy weighting of Apple in the Nasdaq index. Shares of Apple, a hedge fund favorite, were down more than 3% on Monday.
Apple accounts for about 19% of the Nasdaq-100 PowerShares QQQ (QQQ).
According to a recent Business Insider article, earnings growth for the overall S&P 500 is expected to be 1.4% year-over-year, but if Apple were to be removed from the equation, the overall earnings growth would be closer to zero.
To put this in perspective, the last time the S&P 500 saw 10% of its 3-month returns from a single component was in 2000.
No stock can weigh more than 5% of the S&P 500 Index, but Apple is an outlier. The company's growing market capitalization has forced through two index limitations. In ETFs, Apple is also coming in on the ceiling for diversification rules.
Investors seeking a more diversified ETF portfolio, without the heavy weighting in Apple, may consider equal-weight ETFs like the Guggenheim S&P 500 Equal Weight ETF (RSP), First Trust Nasdaq 100 Equal Weighted Index Fund (QQEW) and the recently launched Direxion NASDAQ-100 Equal Weighted Index Shares (QQQE). Over the long-term, the equal-weight methodology is expected to outperform since it provides a higher weighting in small- and mid-cap stocks. For instance, RSP has gained 2.5% over the past five years, compared to the 4.2% loss in the SPDR S&P 500 (SPY).
Guggenheim S&P 500 Equal Weight ETF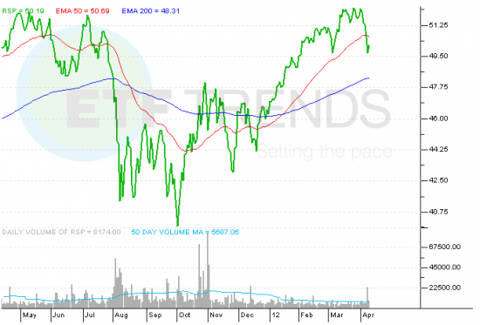 Max Chen contributed to this article.
Disclosure: I am long AAPL, QQQ, RSP, SPY.
Additional disclosure: Tom Lydon's clients own AAPL, QQQ, RSP and SPY.