Apple (AAPL) reports its quarter earnings on April 24. Will earnings beat, match or disappoint?
Consensus estimates are forecasting $9.89 on $36.27 billion revenue. The company guided $8.50 EPS on $32.50 in revenue. Clearly, the pros expect Apple to easily surpass guidance.
Have the experts raised the bar too high or not enough?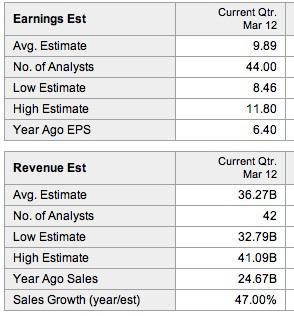 (courtesy Yahoo.com)
Apple's business has been strong. Quarter after quarter, earnings and revenue have strengthened.
I use two metrics to follow that strength: Operating income per unit sold and Units sold. Simply, Operating income per unit sold X Units sold = Operating income.
Operating Income Per Unit Sale
Operating income per unit sale has been increasing. Since 2006, Apple's Q2 has soundly beaten Q1 on operating income per unit sale. We haven't seen any discounting this quarter. The graph below follows operating income per unit sale on a quarterly basis. Extending the graphs, I expect Apple to top Q1 on operating income per unit sale, likely $255 to $265.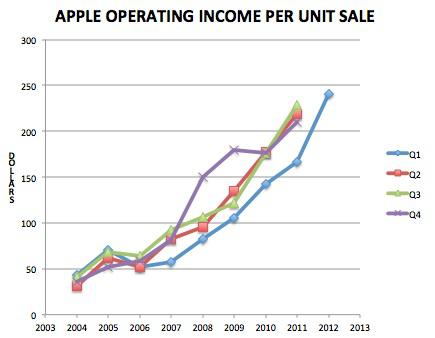 (Operating income per unit is derived from quarterly reports of operating income/total iPhone, iPad, iPod and computer volume.)
Apple Units Sold
Apple has been selling more product: the total number of iPhones, iPads, iPods, and notebooks is increasing as noted in the graph below. Of the four quarters, Q1 has been the volume leader for the last seven years. How will this Q2 do? Extending the graph, we'll likely see unit numbers ranging from 55 to 62 million. Because Apple rolled out the new iPad at the end of the quarter, I expect unit volume to be on the lower end of that range.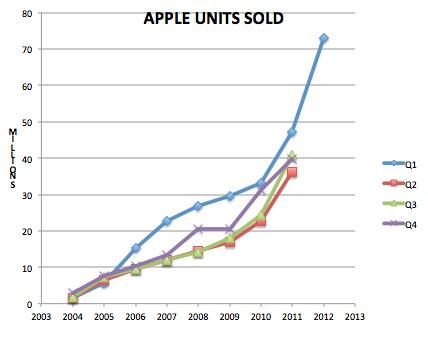 (Apple units sold is total number of iPhones, iPads, iPods and computers sold each quarter.)
Operating Income
Using the above ranges, operating income should come in between $14.025 billion to $16.430 billion. Based on a 24% tax rate and 932 million share count, Apple likely earns from $11.44 to $13.40 EPS, well above analyst consensus.
Apple earnings should fall at the lower range of $11.44 to $13.40, probably $11.50. The company should once again slaughter estimates. Apple remains a long-term buy.
Disclosure: I am long AAPL.
Disclaimer: The opinions in this document are for informational and educational purposes only and should not be construed as a recommendation to buy or sell the stocks mentioned. Past performance of the companies discussed may not continue and the companies may not achieve the earnings growth as predicted. The information in this document is believed to be accurate, but under no circumstances should a person act upon the information contained within. We do not recommend that anyone act upon any investment information without first consulting an investment advisor as to the suitability of such investments for his specific situation.