Noble Corporporation (NYSE:NE), an offshore drilling rig operator, appears to have formed a triple bottom over the last several months. I had owned a November call on Monday and had planned to hold it for several weeks, at least until early November / late October. Perhaps not unfortunately, during a spike on Monday, my sell order was executed before I could alter the price, or even realize what had happened. Needless to say, I'm not too sorry. The stock closed down nearly 2% that same day and has been trading in a range since.
However, these are positive signs of the potential breakout above $52. The market seems to be hovering in anticipation of today's earnings report, scheduled for 1PM CT. Analysts are expecting $1.17 EPS, with a high estimate of $1.25, and a low of $1.11. I am expecting NE to meet or beat analysts' estimates. If that's the case, expect a move to $55+ by Friday's close.
Similarly, a good earnings report from NE will undoubtedly send Transocean (NYSE:RIG) and Diamond Offshore (NYSE:DO) soaring in kind.
Wait for confirmation of the breakout: if NE closes above $51.30 at least 2-3 days in a row, consider that your buy signal.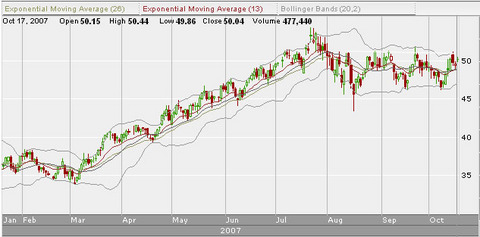 For anyone looking for long-term picks, this is a prime target. With oil nearing $100/bbl, NE is poised to take full advantage of global oil exploration.
Disclosure: I have no position in NE, RIG, or DO at time of writing.