As the Dow Jones Industrial Average (DIA) waivers around the 13,000 level, questions of whether the long-anticipated market top has been formed begin to dwell upon on the minds of active investors. Since the lows of the last market dip back in September 2011, the DJIA has climbed over 20% with a steady incline. Now facing some larger resistance as the quarterly earnings season begins and the threat of European woes creeps back into the news headlines, pursuing the "risk-off" trade found by investing in stable companies within a growth sector becomes a bullish strategy trending with a degree of caution.
In this time of short-term uncertainty and yet confidence in the undervaluation of equities over the long term, pursuing a "buy-and-hold" strategy is a personal decision that requires analysis of one's own goals. Yet for those who find this strategy acceptable at this juncture, investing in the current market leaders provides relative stability in light of possible market volatility. Such investors should consider the following companies, which stand as the recognized leaders in key areas of information technology - a promising field for extended growth for the foreseeable future.
Microprocessors. When it comes to computer chips, Intel Corporation (INTC) stands as the undisputed champion. As of the time of writing, the company sports a market capitalization of $140 billion, carries a forward price-to-earnings ratio of 10.72, and has a reasonable price-to-sales ratio of 2.63. The company is offering a 3% dividend, and has shown exceptional growth in that dividend over the past few years. While Intel has been slow to adapt toward a market shift in the direction of mobile devices, it's sheer resource capacity, infrastructure, and presence in the market makes it unlikely for it to miss out entirely.
(click to enlarge)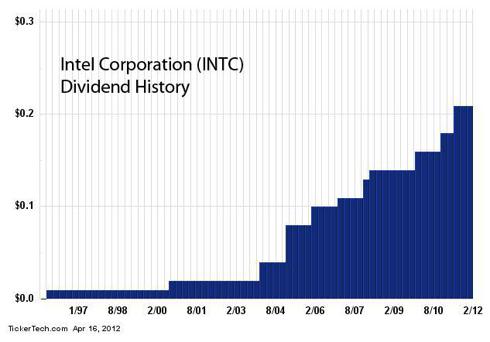 Software. Still the most dominant player in the field of software, Microsoft (MSFT) continues to exploit lofty revenue from its Windows operating system and various online services and business-related applications. The company has made significant strides as it diversified into gaming via the XBox console system, and challenged the market for "Search" with its portal of Bing. Microsoft has a $258 billion market capitalization and a forward price-to-earnings ratio of 10.2. The company does trade at a relatively high price-to-book ratio of 4.05 and carries a price-to-sales ratio of 3.61. A late adapter to the mobile device revolution, Microsoft will soon be releasing its Windows 8 product, which is likely to help its penetration into the existing market.
Networks. Cisco (CSCO) is a multinational corporation that specializes in designing, manufacturing, and selling networking equipment. Coming off of a struggling year in 2011 in which the CEO John Chambers essentially acknowledged that the company strayed off course, the leader in networks has come about face to refocus back on its core technology. As of time of writing, the company currently supports a $107 billion market capitalization, carries a forward price-to-earnings ratio of 10.03, and retains an average price-to-sales ratio of 2.41. Cisco began to offer a dividend in 2011, and has shown the ability to grow it having raised it 23% in 2012 to the current 1.6% yield.
Consumer Electronics. As the most valuable company in the world, Apple (AAPL) continues to serve as the leader in consumer electronics. With a loyal following constantly on the lookout to buy the latest versions of its products, the company has excelled through its innovation in everything from computers, to mp3 devices, to phones, and to tablets. As of April 15, the company has a market capitalization of $564 billion and supports a reasonable forward price-to-earnings ratio of 11.95. However, the company does have a large price-to-book ratio of 6.45 and price-to-sales ratio of 4.54. The company recently started paying out a small dividend, and given its cash reserves, it is likely to raise it over the coming years.
Internet. When it comes to the Internet, Google (GOOG) is the one company most closely associated to it. Its own name has become synonymous to the act of searching for a term, and its online video website YouTube had more than 1 trillion views in 2011. The company has a current market capitalization of $203 billion and supports a forward price-to-earnings ratio of 12.34. Google has a high price-to-book ratio of 3.64 and high price-to-sales ratio of 5.58. The company continues to refrain from issuing a dividend, and its latest split stock idea fell short in the eyes of investors.