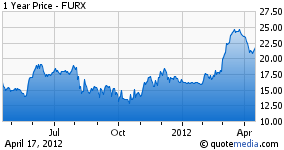 Furiex Pharmaceuticals (FURX) is a pharmaceutical company that has shown interesting stock performance in the last few months. Will shares bounce higher ahead of pending decision?
After starting the year at just under $17/share, FURX began a rally in mid-March that went as high as $25/share but it has pulled back in recent weeks to just under $21/share. Much of this dramatic price action has been linked to the performance of the broader equity market, although the real event that should be driving shares in the coming weeks is the FDA decision that is due to be released on April 25th regarding their Alogliptin/Actos drug. Although the rights have been sold to Takeda Pharmaceuticals (OTCPK:TKPYY), Furiex retains a significant stake in the drug's future through payments and royalties.
Nesina (alogliptin), in combination Actos (pioglitazone HCl) is being developed into a tablet for the treatment of type 2 diabetes. This diabetes 2 pill was already approved in July 2011 by the Japanese Ministry of Health under filing by Takeda Pharmaceuticals. Upon FDA approval, Furiex is expected to receive a $25 million milestone payment from Takeda, and 12% royalties on drug sales after marketing approval. EMA approval would lead to another $10 million milestone payment and additional revenue on sales in Europe.
According to the company's website, the Alogliptin/Actos drug will be the first type 2 diabetes drug that has both a DPP-4 inhibitor as well as a thiazolidinedione. DPP-4 (Dipeptidyl peptidase-4) is a protein which plays a vital role in glucose metabolism by degrading incretins. Incretins usually help regulate insulin levels within the body when necessary. A particular incretin called GIP, or Glucose-dependent Insulinotropic Peptide, ceases proper function in patients with type-2 diabetes. DPP-4 inhibitors help lower blood glucose levels by elevating levels of another incretin (GLP-1, or Glucagon-Like Peptide-1), which can compensate for consistently abnormal levels of insulin in type-2 diabetes patients.
These inhibitors are already marketed widely. Januvia (Sitagliptin) and its improved version, Janumet are DPP-4 inhibitors being sold by Merck (MRK). Novartis (NVS) also sells Galvus (Vildagliptin) and its improved version Eucrease, which adds metformin to the pill. The introduction of Actos (pilglitazone) may prove interesting, as this drug increases the body's sensitivity to insulin, which makes Furiex's proprietary blend unique. As stated before, this Alogliptin/Actos combination will be the first drug on the market with the specific combination of a DPP-4 inhibitor to boost GLP-1 and a thiazolidinedione to boost insulin sensitivity.
Considering the size of the T2D drug market, any respectable slice of it could be extraordinarily valuable for Takeda, and ultimately Furiex. As a result, the PDUFA date of April 25th should be a major FDA catalyst for the stock.
Disclosure: I have no positions in any stocks mentioned, and no plans to initiate any positions within the next 72 hours.