Earlier this month we highlighted the widening spread in the prices of Brent and WTI crude oil prices and its impact on the price of gasoline as the summer driving season approaches. The point of the note was to highlight that gasoline prices were more leveraged to the price of Brent crude oil prices, so no matter how much WTI crude oil prices declined, the only way consumers would see relief at the pump was if the price of Brent crude oil declined.
Thankfully for drivers, the last few days have seen a near collapse in the spread between Brent and WTI crude oil prices. Less than two weeks ago, the spread was over $20 per barrel. Today, the spread is now below $14.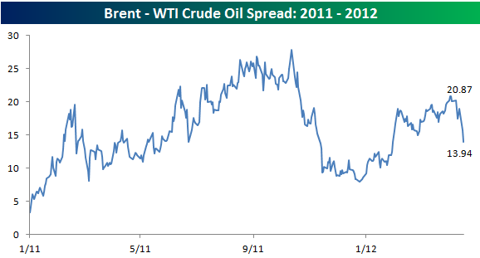 The drop in the spread is also showing up in gasoline prices. Even though the price of WTI crude oil is up 1% so far this month, gasoline futures (RBOB future) are down 6.1%! It is also on pace to close below its 50-day moving average for the second day in a row. That is a streak that hasn't happened yet in 2012! While it is not a large enough drop to put the Prius in the garage and gas up the Hummer for the Summer, at least it's a start.