Zogenix (ZGNX) has been a very heated name here on Seeking Alpha. Author Natty Green put himself out there and was flamed by the community. His article Zogenix: Smart Biotech Buy Before Earnings resulted in 47 comments after Zogenix actually missed revenue estimates and the stock dropped from the $2.70 levels down to $2 per share.
The sell down to the current $1.80-$1.90 levels has actually been a blessing in our opinion because it offers a nice entry point. When it comes to risky and high flying biotech stocks we play the value game a little differently.
In our opinion regardless of what the revenue numbers were going to be last reporting period it was not something that impacted our view of Zogenix offering deep value. We first started buying Zogenix as a "busted IPO" company in mid December. Our theory was that the $60 million dollar funding at $2 per share created a tremendous "bounce back" level.
Our theory proved to be correct as we took profits because shares of Zogenix ran up way too quickly without any substantial news. There were news stories about Zohydro and a piece on ABC News but nothing concrete. We've been waiting for a re-entry point and now we've found it.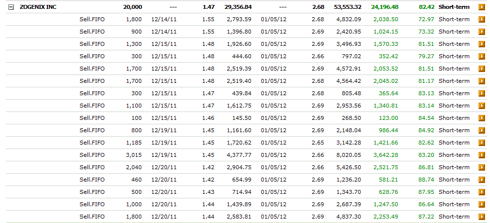 History
Here is a great article by Bruce Bigelow in Xconomy about Zogenix.
Zogenix also found time since 2006 to raise a total of $199 million in capital ($164 million in venture funding and $35 million in debt financing) and to initiate a pivotal, late-stage trial of a controlled-release formulation of a second drug candidate, a novel tablet form of hydrocodone for long-term, chronic pain. Suffice it to say, the company has accomplished a lot in a short time.
That means the $200 million USD that was raised from the venture capital community prior to the IPO, plus the $56 million from the IPO (14 million shares at $4 per share), and the recent $60 million dollar funding at $2 per share brings total cash raised to $316 million dollars! The current market capitalization of Zogenix is currently $123.55 million.
One can make the case that this was a bad investment for the VCs but in the most recent funding, the Stifel Nicholaus prospectus for the previous $60 million dollar funding shows the following:
Clarus Lifesciences I, L.P., Domain Associates, L.L.C., Scale Venture Partners II, LP and Cowen Healthcare Royalty Partners II, L.P., or funds affiliated with them, and Roger L. Hawley, our Chief Executive Officer, Ann D. Rhoads, our Executive Vice President and Chief Financial Officer, and Bret E. Megargel, our Vice President, Corporate Development, each of which is a current stockholder and which we refer to collectively as the Current Stockholders, have indicated an interest in purchasing 3,500,000, 3,500,000, 1,250,000, 750,000, 50,000, 100,000 and 15,000 shares of our common stock in this offering, respectively
This certainly looks like the management team and the VCs are true believers.
Don't Stop Believin' Hold On To The Feelin'
It is actually impressive that Zogenix actually produced $37.5 million in revenue for 2011. The SUMAVEL DosePro™ (sumatriptan injection) Needle-free Delivery System made up the bulk of the revenues. This platform of replacing needles has lots of potential which is why the company partnered with Battelle to find more market opportunities.
No offense to Battelle but we had no idea who they were and investors were probably disappointed it was not a "brand name" pharma partner. After using Wikipedia (we never said we were very smart) it appears Battelle produces close to $5.0 billion in revenue and employs 22,000 people. That's actually not bad and hopefully Battelle can introduce some of its strong government/military contacts to Zogenix to see if the needle free delivery system could be helpful.
In our opinion, the big deal is Zohydro and most importantly the upcoming New Drug Application (NDA). We recommend everyone read the Zogenix investor power point presentations here. When the NDA is announced we expect shares of Zogenix to move back to the mid $2 levels and possibly the $3 mark.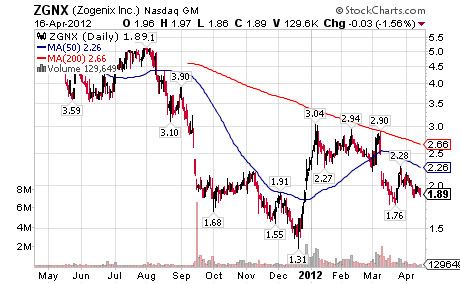 Conclusion
In the world of biotech there are not many companies with two FDA approved drugs trading at a market capitalization of $123.55 million. If you take the cash and subtract the debt the enterprise value is about where the market cap is right now. In all Zogenix's company's management team, VC investors, and investment community have poured $316 million dollars into a company that can be owned for almost 61% less. When it comes to value in the biotech space we don't see many other companies offering as much.
Disclosure: I am long ZGNX.