The latest stock I've added to my watchlist (and may be acquiring shortly) is Seabridge Gold. The company recently acquired an NYSE listing under the ticker (SA).
Here's the story on Seabridge Gold, and why I think it is a compelling opportunity - particularly if gold stocks remain sluggish and prices decline:
1. Seabridge can be thought of as a bank that stores its gold in the ground. They shy away from actually going into production, and focus more on exploration and determining the economics of exploration. The chart below illustrates this:
(Click to enlarge)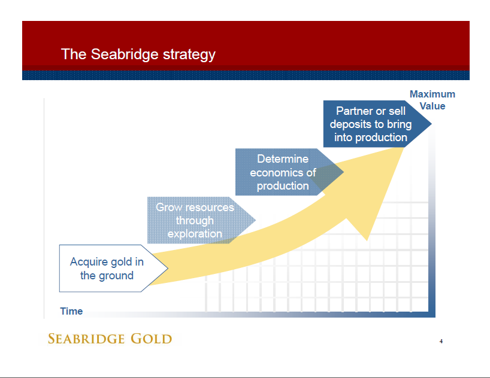 This video, with Seabridge CEO Rudi Fronk, also elaborates on the company's strategy. I highly recommend watching it.
I like this model very much, as I've noted before. It keeps costs down and reduces risk significantly, and so in many ways I view it as a safer way to play - provided management is skilled and the firm is sufficiently capitalized to invest in a number of projects.
2. Seabridge's big project is the Kerr, Sulpherets and Mitchell mine ((NYSE:KSM)). It is estimated to hold 49 million ounces of gold according to the measured and indicated numbers from its NI 43-101 report as well as 12.7 billion pounds of copper. This project will cost $3 billion to go into production, so it is going to need to be sold to one of the major producers. Seabridge did previously sell a project to Newmont (NEM), so this prior relationship could help the firm sell the KSM project as well.
3. Of particular relevance is the high short interest Seabridge has; I recommend this article on Seeking Alpha noting the 10 most shorted gold stocks, which lists Seabridge as the second most shorted gold stock, with 10.4% of its outstanding shares being shorted. Gold stocks with strong fundamentals and a high short interest are a particular interest of mine, as eventually these shorts are going to need to cover - meaning they are going to need to buy back their position and book profits. As I'm bullish on gold stocks on a fundamental basis (because of the global sovereign debt crisis), I think strong hands will come in at this time as well, and quality companies that have a high short interest will explode to the upside due to the combination of short-covering and strong hands buying the dip. This is something I especially like about Seabridge, as I believe bulls who use the shorts that push price down to their advantage could enjoy outstanding gains when the shorts cover.
4. In terms of its balance sheet, Seabridge has no debt, has just under $60 million in current assets, and is currently trading at 3.77X its book value. I would like to see the price/book fall to 3, which would mean a share price of $15 - a 20% decline from here.
Final verdict: I may initiate a position in Seabridge over the next few days, although I think there may be some better deals out there as there have been some truly outstanding sell-offs of late - so I'll have to do some more comparisons. I do like the stock very much, though, and the KSM project is one I would like to invest in. If the price can fall to $15 that would make the decision much easier for me.
Disclosure: I am long NEM.