How do you learn best when making investment decisions? Putting yourself in front of information in your preferred format is likely to improve your decision making.
Starting with data formats that play to your learning style strength is an important, but we feel overlooked, area in discussions of the behavioral aspects of investing.
Different people learn differently. Some rely more on reading text and tables (left brain thinkers). Others rely more on pictures in the form of charts and video (right brain thinkers). Let's see which you are when it comes to analyzing dividend investment opportunities.
For those of you who don't particularly care about the question, we will try to add some value for you by suggesting that the six companies featured here are interesting for dividend income.

Stocks listed: Abbott Labs (ABT), BHP Billiton (BBL), Darden Restaurants (DRI), Lockheed Martin (LMT), Pepsico (PEP) and Chevron (CVX).
It is important to know which is your strength and to make sure you feed your brain the form of information it handles best. Giving your brain both forms of data is valuable, but unknowingly starving your brain of its favored information format diminishes your decision capability.
Just as it is not helpful to force a left-handed child to work with the right hand, it is not helpful to force yourself to work from your weak learning mode, when making investment decisions.
Investing for dividends, and investing in general, is heavy on pattern recognition and comparison of data from security-to-security.
Your best shot at making good decisions might depend on knowing what form of data plays to your strongest means of pattern recognition.
To some of you it may sound like a silly discussion, but our empirical experience is that it is quite real.
When we meet with clients we show both kinds of data initially to see how they react, and the responses can be dramatic. Some look totally lost with numeric data, and show instant understanding with pictures; while others look impatient with pictures, and ask that we get onto the data --- we adapt to their needs accordingly -- different strokes for different folks.
If you are an artist or a radiologist, you may learn best and discern patterns best with pictures. If you are an accountant or actuary, you may be better at data analysis and pattern recognition with tables of numbers; or if you are an attorney, you may think best through reading text reports.
We speculate that TV, movies, computer games, etc, are gravitating the entire population toward pictures, but not everybody analyzes best that way.
Our own research and learning approach tends to be three step:
(1) quantitative computer screening to generate a reasonable size list of potentially interesting stocks,
(2) a survey of pictures of prices, earnings, dividends, cash flow etc., to reduce the list further, then
(3) a detailed look at tabular data and text narrative reviews.
Which works best for you?
Here are pictures and data tables for 6 generally attractive dividend stocks.
If you were filtering through opportunities, which approach is either more persuasive to you, or more likely to be effective in narrowing your choice and firming your opinions?
Tabular Views (vertical and horizontal orientation):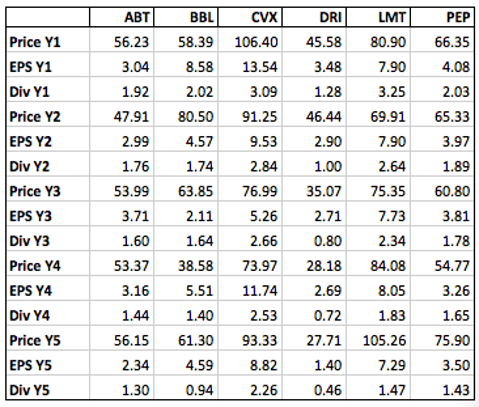 Picture Views: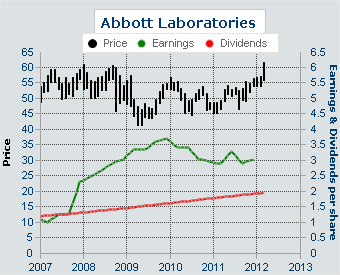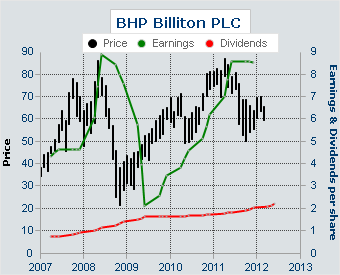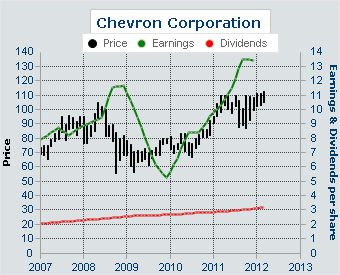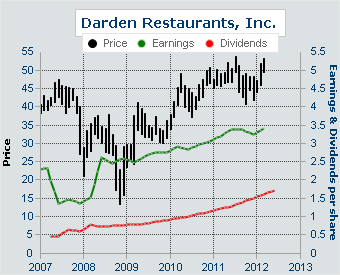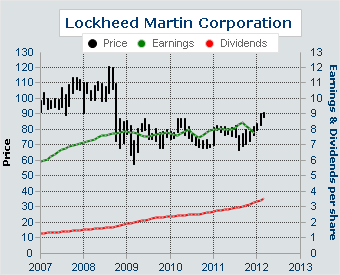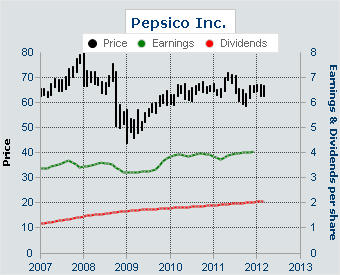 For us, the pictures are much easier on the brain than tables, but after the pictures attract us, we have to go to the tables for more detail and granularity, and to review lots of data that is not available in pictures.
Starting with data formats that play to your learning style strength is an important, but we feel overlooked, area in discussions of the behavioral aspects of investing.
Treat yourself well for better decisions with information formats that work best for your learning and decision style.
Disclosure: QVM has positions in ABT, BBL, PEP, and CVX as of the creation date of this article (April 17, 2012).
General Disclaimer: This article provides opinions and information, but does not contain recommendations or personal investment advice to any specific person for any particular purpose. Do your own research or obtain suitable personal advice. You are responsible for your own investment decisions. This article is presented subject to our full disclaimer found on the QVM site available here.