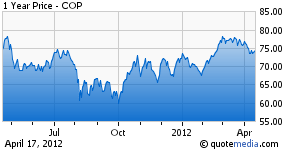 ConocoPhillips (COP) is already a favorite among income investors. At its current price of $74.22, it offers a sturdy 3.59% yield, with substantial growth over the past decade. Since 2002, the dividend has risen from 80 cents to $2.64 annually, representing payout growth of 12.7% annually.
That growth looks set to continue. In conjunction with the upcoming spinoff of Phillips 66 (NYSE:PSX) - the company's refining business - ConocoPhillips held a conference call Monday morning to update investors on the future of the company. On April 30, Phillips 66 will be spun off, with current COP shareholders receiving one share in Phillips 66 for every two shares currently owned in COP. PSX closed Monday on a "when issued basis" at $36.55. The COP "stub" will see its price decline; its "when issued" offering closed at $55.82.
Going forward, ConocoPhillips has a clear intent on maintaining shareholder-friendly policies that are of specific interest to income investors. Incoming CEO Ryan Lance laid out a series of initiatives to boost the company's dividend, compensating, as Bloomberg noted, for below-market growth rates in oil and natural gas production.
In the short term, ConocoPhillips plans to repurchase $10 billion in shares in 2012. This program will be largely funded by asset sales as the company repositions itself as a streamlined E&P company.
Lance also committed to paying 20-25% of operating cash flow out in dividends annually. For 2012, between $3 and $4 billion is allocated to dividends, according to the presentation accompanying the call (available here). At current share count, that would represent an annual payout of $2.32, a yield of 4.16% at the low end of the range. Should the dividend be maintained at $2.64 per share, the yield would reach 4.73%, with dividend payouts accounting for about 21.3% of OCF.
That yield, however, does not include the authorized share repurchase, or future growth in operating cash flow. Current share count, according to an update earlier this month, is 1.293 billion, after $1.9 billion of repurchases in the first quarter. If the remaining $8.1 billion is spent at the current "stub" price of $55.82, an additional 145 million shares will be repurchased, bringing the share count down to 1.148 billion. Those repurchases may allow the company to authorize a more aggressive payout per share, knowing that share count will be reduced in the second half of the year.
Regardless, in and of itself, that share reduction will increase dividend yield. In 2013, with a projected share count of 1.148 billion, and operating cash flow of about $17 billion, between $3.4 and $3.8 billion - between $2.96 and $3.31 per share - should be allocated toward dividends. Those payouts, at the current "stub" price of $55.82, would yield between 5.3% and 5.9% annually. By 2016, based on company projections, the annual payout should be between $3.83 and $4.79 per share - representing a yield on cost between 6.87% and 8.58% at current prices.
Can ConocoPhillips sustain such an aggressive policy? As Bloomberg noted, the company will likely need to rely on asset sales and cash on hand to fund its payout and capital expenditures in the short term. On the call, CEO Lance noted the existence of a short-term "deficit" in the dividend policy that will be made up through production increases and expense control. Bloomberg quoted Raymond James analyst Pavel Molchanov, who noted the company's focus on income - rather than growth - was out of place in the traditionally aggressive industry, and argued that about $1 billion in annual sales would be required to implement ConocoPhillips' dividend plan long-term.
In addition, the company's projections are based on "flat" gas prices going forward. But using aggressive short-term tactics of using cash on hand and asset sales to sustain the dividend may limit the company's flexibility in the future. As such, a dip in oil prices may threaten future dividend increases.
Still, these worries are common for many high-yielding stocks. ConocoPhillips has an excellent history of dividend increases, and a clear focus on income-generating policies going forward. If the company executes, and if oil prices stay at or near current levels, COP's yield should exceed 5% no later than 2013. That makes the stock a risk worth taking for income investors.
Disclosure: I have no positions in any stocks mentioned, and no plans to initiate any positions within the next 72 hours.