Predicting the short-term direction of the market is next to impossible. In spite of this, I have been unusually bullish for the past 3 months noting an undeniable bid under technology stocks regardless of external events or news. I also believe that the excitement over the long awaited IPO of Facebook (FB) has drawn some additional interest and enthusiasm from market participants, again primarily in technology. So now that the Facebook offering is imminent and the market showed its first significant signs of weakness over the last two weeks, where are we headed now? I say UP, not only do we have short-term events driving interest but longer term, the economic environment supports higher stock prices.
(Click to enlarge)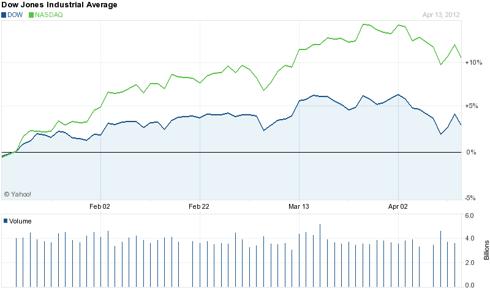 *Source Yahoo Finance
Technology Remains the Place to Be
As the chart above illustrates, the technology heavy Nasdaq dramatically outperformed the Dow in recent months and with Facebook in the wings this dynamic should continue. You can see further evidence of technology outperformance within the first quarter index results reported by Russell Investments.
Russell Index Sectors

Russell 3000
1Q 2012

Russell 1000
1Q 2012

Russell 2000
1Q 2012

Utilities

0.0%

0.0%

-0.2%

Technology

21.6%

22.2%

13.8%

Producer Durables

12.0%

12.0%

11.8%

Materials & Processing

12.8%

12.7%

13.5%

Health Care

10.3%

9.8%

15.4%

Financial Services

19.1%

20.0%

11.6%

Energy

4.0%

3.9%

6.0%

Consumer Staples

5.9%

5.9%

6.2%

Consumer Discretionary

16.0%

15.8%

18.1%
Source: Russell Investments.
Lack of Belief Leaves Money on the Sidelines
Market behavior is dictated by two emotions, fear and greed. So far, many investors have yet to overcome their well-earned market phobia, firmly engrained by 3 market meltdowns in 9 years and unavoidable evidence that the market's highest powers are anything but investor sympathetic and immune from the same type of losses that devastated so many working folks' 401ks. Volume in January 2012, the best January for the markets in 15 years was 19% lower than it was a year earlier. Clearly this is evidence that many investors have packed up and have not returned, and frankly I don't blame them. The market's volatility matched with Government ineptitude and corporate malfeasance should give people pause. Yet, you know what will happen if the market continues higher? Soon greed will overwhelm fear and the same folks that swore off stocks forever will return fearing missing out more than fearing losing money. Despite the market's recent advance, investors are not yet convinced it is time to get back in.
"Most investor money is just going under the mattress these days," says David Santschi, executive vice president of TrimTabs. "And what isn't going under the mattress, is going into bonds." That jibes with data from fund-tracking firm Lipper, a Thomson Reuters company, which found that investors pulled $3.6 billion from their stock funds through the end of February. That's on top of the $93 billion they yanked out last year. Taxable bond funds, meanwhile, continue to charge ahead, with $43 billion in inflows year-to-date.
No Sign of Inflation and Rates Will Remain Low
The stock market is driven by supply and demand and over the past 36 months the market has risen significantly on low volume. If the market is able to continue higher, as I believe it will, you will eventually see more investors come back looking for bigger returns than bonds afford. We are in a no inflation world where governments recognize that the fragility of housing markets necessitates abnormally low interest rates for the foreseeable future. No central bank is going risk another economic meltdown by sticking a pin in housing and simultaneously the consumer by raising rates. If reasonable yield is unattainable in the bond market and the stock market continues higher it is inevitable that investors will begin to ignore their better judgments and succumb to the market's appeal. In an article from Bloomberg:
Richard Fisher, president of the Federal Reserve Bank of Dallas, said that "a lot of money is lying on the sidelines, lying fallow" and "we will not support" another round of quantitative easing, in an interview with Fox Business Network. And;

"You know, I am a hawk on inflation. But that is, inflation has been coming down, not going up," Fisher said. "I watch this like a hawk, because this is my little part of the aviary at the Federal Reserve system. I'm perched, ready to pounce on inflation. I don't see that as the problem presently."
And in another article from Bloomberg:
Chairman Ben S. Bernanke said the Federal Reserve is considering additional asset purchases to boost growth after extending its pledge to keep interest rates low through at least late 2014.
Conclusions
Given that I believe the market is headed higher because of continued momentum attributable to the Facebook effect and the slow capitulation and return of the retail investor, where do you look to park some capital to participate? Well if technology remains the place to be, I always favor smaller stocks for more Beta. From the chart below from an article from fellow SeekingAlpha contributor Bespoke Investment Group, of the 50 best-performing stocks in the Russell 3000 in Q1 2012, a good 16 of them were healthcare and of those 15 were biotech or drug companies. Healthcare stocks that are actually drug discovery stocks are technology stocks to me whether defined as such or not.
(Click to enlarge)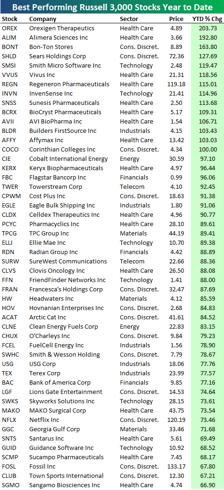 Based on the obvious interest in technology healthcare/drug stocks, my preferred plays are the two biotech/drug stocks I outlined earlier in the year as buyout candidates, Seattle Genetics (NASDAQ:SGEN) and Momenta Pharmaceuticals (NASDAQ:MNTA), as they performed well when the market was moving higher. I would also look seriously again at Cerus (NASDAQ:CERS), which was trading near 52-week highs less than four weeks ago but has pulled back and given investors an opportunistic entry point in the recent weakness. The market will be higher than it closed on Friday April 13, 2012, when Facebook begins to trade and will maintain momentum through the end of 2012. The likelihood of continued interest in the Facebook offering and sideline money looking for a home makes this is a good time for investors to establish or maintain a long bias.