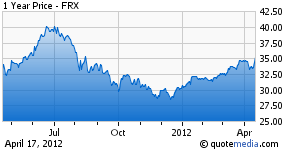 It's hard to remember the last time the Street was really hot on Forest Labs (FRX). Although this company has shown a pretty surprising resilience and an uncanny ability to find good licensing deals, analysts seemingly can't move past the admittedly huge ramifications of key drug Lexapro going generic. It's not as though Forest Labs has been caught flat-footed, though, and there seems to be value in Forest's pipeline than the Street can see.
Fourth Quarter Results Just A Taste Of What's To Come
With Lexapro going off patent just recently, this is only the start of what's to come in terms of difficult year-on-year comps for Forest. Revenue did fall 7% on a reported basis, with net pharmaceutical sales down about 9%. Lexapro sales plunged 40%, but still made up more than one-third of the quarter's pharmaceutical revenue. Namenda continued to grow well (up almost 20%), while Bystolic chipped in 33% year on year growth.
Gross margin (adjusted for contract revenue and interest income counted in revenue) was basically steady, while adjusted operating income fell more than 50% as the company continues to increase its R&D spending to support late-stage clinical development.
Management also lowered its guidance for the next fiscal year (2013). While the prior bogey had been $1.20, there was widespread expectation that the number would have to move lower. Consequently, revision down to just $0.90 to $1.05 was relatively positive when compared to the whispers.
Replacing The Vertical Offense With Three Yards And A Cloud Of Dust
Central to the Forest Labs operating philosophy is that they haven't been, aren't, and likely won't look for a blockbuster to replace Lexapro (or Namenda when it goes off-patent in 2015). Instead of the big winner that Lexapro proved to be, management is looking to replace it with a larger number of smaller, but arguably more predictable, compounds.
While Forest Labs would certainly not mind seeing an in-licensed or acquired drug turn into a blockbuster, the benefit of this new approach is that much less future value depends on a single drug.
To that end, drugs like Eklira and linaclotide (partnered with Ironwood (IRWD)), which haven't really gotten the Street fired up, may not be blockbusters, but will likely do better than expected. Similarly, neither cariprazine nor levomilnacipran is likely to be a blockbuster, but both could be above-average drugs in markets that feature a lot of refractory patients that go through multiple medications before finding one that works.
Still, Execution Matters
By and large the story of Forest Labs has been one of initial low Street expectations that management ultimately surpasses with careful execution. That would seem to be the case, for instance, with Viibryd which has had a pretty good launch despite low expectations for a supposedly "undifferentiated" depression drug.
On the flip side, Teraflo and Daliresp have been somewhat disappointing so far. To be fair, Teraflo had to be almost another Cubicin (Cubist's (CBST) successful antibiotic) to please some, and it's still early days for both drugs. Still, Forest is going to have to start reporting better sales here if investors are going to have incrementally more reason for optimism on the pipeline - particularly as Eklira could see competition from COPD drugs under development at Novartis (NVS) and GlaxoSmithKline (GSK).
The Bottom Line
Unlike a few notable Big Pharma companies (Glaxo and AstraZeneca (AZN) in particular), Forest Labs has a surprisingly good record when it comes to identifying in-license candidates and acquisition targets. That gives me a fair degree of confidence that management can mitigate the loss of Lexapro (and eventually Namenda).
At this point, I believe that Forest can still produce more than 5% compound free cash flow growth over the next decade, though much of that growth comes in the out years where there is far less certainty about sales and profit levels. With cash on hand representing almost one-third of today's value and plenty of partnership or acquisition candidates out there, I think a little faith in Forest Labs management can still be well-rewarded from today's levels.
Disclosure: I have no positions in any stocks mentioned, and no plans to initiate any positions within the next 72 hours.