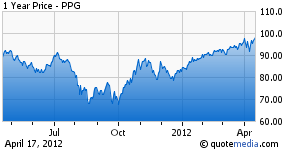 Another great long-term holding getting an upgrade yesterday was PPG Industries, Inc. (PPG). Shares were up +1.23% on an upgrade to Buy at Citigroup citing margin improvement from cheaper natural gas and the upturn in the automotive and aerospace sectors. Citigroup also raised the price target to $114 from $107.
PPG Industries is a global supplier of protective and decorative coatings. PPG operates in six business segments: Performance Coatings, Industrial Coatings, Architectural Coatings-EMEA (Europe, Middle East and Africa), Optical and Specialty Materials, Commodity Chemicals and Glass.
The Performance Coatings, Industrial Coatings and Architectural Coatings-EMEA segments supply protective and decorative finishes for customers in a range of end use markets, including industrial equipment, appliances and packaging; factory-finished aluminum extrusions and steel and aluminum coils; marine and aircraft equipment; automotive original equipment; and other industrial and consumer products.
The Optical and Specialty Materials segment consist of the optical products and silica businesses. It is a producer and supplier of basic chemicals. Glass segment produces flat glass and continuous-strand fiber glass. The Glass business segment consists of the flat glass and fiber glass businesses.
This $14.79 billion blue chip Pittsburgh-based workhorse continues to provide consistent growth and payout increases to shareholders over the long-term. This is another one of those boring stocks that people seem to forget about or take for granted. It has a current payout equivalent to about 2.35% annually. This year will mark the 27th consecutive year that PPG has raised its annual payout.
PPG exceeded all earnings estimates in all four quarters of 2011. It is also expected to grow future earnings at a market-beating pace of 12.31% annually over the next five years. This enormous growth potential coupled with the dividend certainly makes up for the relatively small yearly payout increases.
PPG has a trailing PE ratio of 13.63, a forward PE of 11.74, a PEG ratio of 1.04, a price to book ratio of 4.35, and a price to sales ratio of only 0.95. PPG has a profit margin of 7.36% and an operating margin of 11.25%. It pulls in $1.44 billion in operating cash flow and $894 million in free cash flow.
It has a current payout ratio of only 34%. Another great sign of fundamentally sound management is only about $347 million of free cash flow is used to pay dividends, while the other $547 million is used to grow the business.
As I am getting more into options trading, I wanted to try to provide an additional trade for the recent upgrade.
I want to try to use a hypothetical bullish vertical call spread for PPG. These are not the actual values in the current options chain. I am using simple math for illustrative purposes only.
For easy mathematical purposes let just say PPG is currently priced at $100. Furthermore, assume it is a standard option, meaning every option contract controls 100 shares.
Assume that for next month, a call option with a strike price of $100 costs $3 per share, or $300 per contract, while a call option with a strike price of $115 is selling at $1 per share, or $100 per contract.
A trader can then buy a long position on the $100 strike price option for $300 and sell a short position on the $115 option (aka write a $115 call) for $100. The net debit for this trade then is $300 - 100 = $200.
This trade results in a profitable trade if the stock closes on expiry above $102. If the stock's closing price on expiry is $110, the $100 call option will end at $10 a share, or $1000 per contract, while the $115 call option expires worthless. Hence a total profit of $1000 - 200 = $800.
The trade's profit is limited to $13 per share, which is the difference in strike prices minus the net debit (15 - 2). The maximum loss possible on the trade equals $2 per share, the net debit.
In my opinion PPG Industries is a stable, consistently growing dividend machine. Investors should benefit from growth potential worldwide in the emerging markets as its products are used on aircraft, automobiles, optical lenses, ships, buildings, wind & solar products, and more. Using options with PPG is also an additional way for it to provide an income stream other than quarterly payouts.
Disclosure: I am long PPG.