By Brendan Gilmartin
Overview
eBay (EBAY) is scheduled to report 1Q 2012 earnings after the closing bell on Wednesday, April 18. The numbers are typically released at 4:15 p.m. EST and will be followed with a conference call at 5:00 p.m. eBay is expected to deliver solid results for the recent 1Q on strength in the PayPal and Marketplaces segments, while the 2Q outlook is fairly uncertain.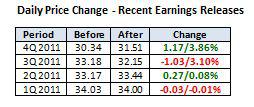 Outliers And Strategy
In its previous earnings release, eBay gave the following guidance for 1Q 2012:
Non-GAAP earnings per share in the range of $0.50 to $0.51. The Street estimate is $0.52. (Source: Yahoo Finance)
Revenues are forecast in the range of $3.05 billion to $3.15 billion. The consensus is $3.15 billion.
With 1Q 2012 results potentially priced in, much of the focus will center on the outlook for 2Q 2012.
The current consensus for Non-GAAP EPS for the 2Q 2012 period is $0.55.
The consensus for revenues in the 2Q 2012 period is $3.36 billion.
Any adjustments to the outlook for FY2012 could also have consequences for eBay shares. Back in January, eBay said it expects net revenues in the range of $13.7 billion to $14.0 billion with non-GAAP earnings per diluted share in the range of $2.25 - $2.30.
eBay is seen topping its previously announced guidance for 1Q 2012 thanks to ongoing strength in the PayPal business and its expanding leadership position in global payments. The Marketplaces business is also poised to deliver solid 1Q performance.
Recent News
Technical Review
eBay shares are up more than 17% YTD and recently touched a 52-week high of $38.18, implying that solid results for the recently concluded 1Q 2012 period may be priced in at these levels. If the company can deliver on expectations to top the 1Q2012 consensus and slightly increase its outlook for 2Q (estimates call for eBay to report in-line guidance), the shares could re-test the recent highs near $38. Conversely, the support is at the 50-daySMA near $35.85, with downside risk to $35.00, followed by $33.25. (Chart Courtesy of StockCharts.com)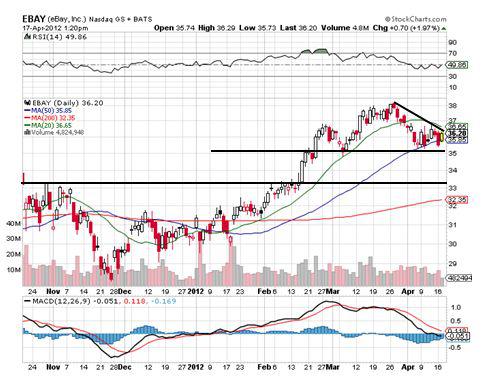 Summary
eBay shares posted solid gains over the course of the 1Q 2012 period amid evidence of improvement at the Marketplaces segment (eBay.com and other e-commerce sites) and the continued leadership of PayPal in both online and mobile payments. The Street Estimates for NON-GAAP EPS of $0.52 on revenue of $3.15 billion are at or above the high end of the outlook the company provided back in January. Should eBay therefore fail to meet these lofty expectations, the shares are vulnerable to several points of downside risk. Investors will also focus on the outlook. The guidance for 2Q 2012 is widely expected to bracket consensus estimates. Should earnings and guidance surprise to the upside, eBay is well-supported above the 50-Day SMA and could make another run back toward the recent 52-week high of $38.18.
Disclaimer: By using this report, you acknowledge that Selerity, Inc. is in no way liable for losses or gains arising out of commentary, analysis and or data in this report. Your investment decisions and recommendations are made entirely at your discretion. Selerity does not own securities in companies that they write about, is not an investment adviser, and the content contained herein is not an endorsement to buy or sell any securities. No content published as part of this report constitutes a recommendation that any particular investment, security, portfolio of securities, transaction or investment strategy is suitable for any specific person.
Disclosure: I have no positions in any stocks mentioned, and no plans to initiate any positions within the next 72 hours.