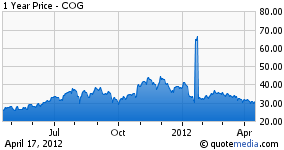 In March of this year, a fire disrupted the natural gas output at one of the Cabot Oil and Gas (COG) compressor stations in Pennsylvania. The fire mainly disturbed work at the Lathrop Compressor Station, which normally moves 365 million cubic feet a day for the oil and gas company. Although Cabot stated that it did "not expect the fire to impact its financial condition or distributions to unitholders," there was considerable concern regarding this situation in the minds of many. This was despite information provided that although the physical structure of the building had been damaged to a certain degree, the equipment had remained in place and largely undamaged by the unexpected fire.
Although Cabot restarted production the day after the fire took place, output was down by half. Production did return to normal levels within a few days. The event was minor, but it was enough to highlight the possible concerns that investors may have with oil and gas giants like Cabot. At any given moment, production can be stopped because of safety concerns like fires.
As far as the Lathrop fire goes, six of the seven compressor units used at the station are still operational with the seventh one expected to be fully repaired in the near future, indicating that no major changes can be expected in terms of Cabot's continuing reliability. There's no reason to hold any worry at this point.
It is important to keep in mind, however, that despite this positive information regarding the ability of Cabot to return to pre-disruption levels of production, they still recently were listed as one of the biggest losers on the S&P. This may be an indication that the fire and its effects had a bigger impact then was initially recognized and it is something that should be remembered going forward.
Three of Cabot's main competitors, namely Anadarko Petroleum (APC), Petroleum Development (PETD) and Comstock Resources (CRK), do not appear to have been experiencing similar losses. That is to say, these companies did not experience the quick and obvious loss that Cabot did. The natural gas industry, as a whole, has been suffering recently. This is due to lower-than-average costs and many buyers turning their attention toward alternative energy sources.
In Cabot's case, another potential catalyst in the losing streak may be the fact that this company was accused of being involved in water contamination in the Pennsylvania area despite the fact that an investigation returned results stating that the pollution levels found were not concerning. However, they were present, causing residents in the Dimock, PA, area to maintain their standpoint against Cabot and resulting in the controversy continuing onward.
It must also be noted that in April of last year the state of Pennsylvania put through an order requiring Cabot to completely shut down production of several of its wells and pay $14 million in fines. At the same time, oil drilling in general in the area of Dimock and the activities of Cabot in particular were identified as possible major causes of pollution in the area. Residents and officials were frustrated by the water problems caused by these oil drilling activities being more prevalent then reported by the officials.
A year later, Cabot continues the struggle of proving that its oil drilling activities are not the cause of the reported pollution, with varying results. This kind of bad press can have a huge impact on stocks, so it would be wise to monitor the ongoing developments in this situation carefully. Although the seriousness of the situation may appear to be buffered due to the amount of time that has elapsed since the punishment leveled by the state, the continual repercussions of such a situation can have long-lasting effects on a stock price.
There is some recent good news, too. One example is the new joint venture pipeline with William Partners L.P. (NYSE:WPZ) that will transport gas to Iroquois Gas Transmission and Tennessee Gas Pipeline in Schoharie County, NY. The company called this "the next big step of our capacity expansion program and positions us with access to the premium New England and New York marketplace that has historically been constrained from both a lack of reliable supply and pipeline infrastructure." The pipeline will begin functioning in March 2015 and should provide some stability moving forward for Cabot.
So, despite the instability and legal factors, many still consider Cabot to be a good play for 2012. When compared to competitors such as Anadarko and Devon Energy (NYSE:DVN), Cabot comes at a substantially lower price, with the same ability to grow. These other companies will get the larger projects, like Andarko's new pipeline, but Cabot still stands to profit off smaller ventures. Its own pipeline should be seen as a stabilizing move, helping to ensure the company will be providing natural gas for years to come. As experts have pointed out, the future of the company will rest on its ability to find new, and profitable, uses for its supply of natural gas. The success of this will keep Cabot healthy for a while.
Let's not forget that Cabot tripled between September 2010 and late last year, bringing its price up from about $13 to over $40 per share. Such history tells us that Cabot knows how to make money and grow, it just needs the right opportunity. For me, investing in a oil and gas company is always susceptible to losses brought on by small disasters like the Lathrop fire. It also means waiting out an industry that features extreme highs and lows for demand. If you can stick this out, Cabot may be your play. If not, this just may not be the right industry for your investment.
Disclosure: I have no positions in any stocks mentioned, and no plans to initiate any positions within the next 72 hours.