A collar or protected covered call search performed using PowerOptions tools seeking to find the highest returning position for profitable companies in an up trend and with a maximum potential loss of 8% produced the solid-state storage company Fusion-io (FIO) as shown below:

Following not too far behind Fusio-io are the wide area networking company Riverbed Technology (RVBD), the network solutions company Fortinet (FTNT), the online travel company Priceline.com (PCLN) and the content delivery company Akamai (AKAM).
A protected covered call may be entered by selling a call option against a stock and using some of the proceeds from selling the call option to purchase put option for protection. The Fusion-io protected covered call has a potential return of 4.2% (47.9% annualized) with a maximum potential loss of 7.3%.
Profitable companies were found by selecting to search for a Price-to-Earnings (P/E) ratio of greater than zero. Companies in an up trend were found by including a stock price with a 100 day moving average greater than the 200 day moving average. The 8% maximum loss was selected as a search parameter, as a loss of 8% or less can often be recovered in a few months using income generating investment methods.
Fusion-io is a cutting edge producer of solid-state high-capacity storage drives for servers. Companies like Apple (AAPL) and Facebook represent the technology industry's modern day financial goldmines, and Fusion-io is the innovative company selling the high-tech equivalent of extraction equipment and railcars to both of these titans. Fusion-io is ideally positioned at the spearhead of the exploding growth in the emerging flash-driven enterprise storage memory platform market that Morgan Stanley (MS) analyst Katy Huberty forecasts rising from $2 billion to $20 billion in annual revenues. With Facebook's eagerly anticipated initial public offering pending any day now, combined with Apple co-founder Steve Wozniak's recent prediction that Apple stock will someday be worth $1,000 a share, the halo effect makes Fusion-io an affordable pure-play at $28 a share to reap tremendous rewards alongside the success of its two prized customers. As the chief engineer at Fusion-io, consider Wozniak's decision to invest his talents by working with this company, along with his track record of success in developing new technology.
Fusion-io is pioneering solid-state memory storage architecture that is transforming data center efficiency. While digital processing power has increased dramatically over the years, the speed and efficiency of the mechanical storage infrastructure of enterprise servers has failed to keep up, resulting in under-utilized CPUs and slower rates of data processing. Fusion-io products remedy this by offering non-volatile flash memory devices that combine hardware and software for data decentralization in large-capacity cloud computer banks. By relocating active data closer to the CPU, which gives enterprise servers native access to the information to speed up processes such as web-based applications and databases, Fusion-io's revolutionary technology replaces spinning hard-disk drive technology that has dominated the computer data storage industry for half a century. The Fusion-io storage platform also offers the benefit of reducing energy consumption, which saves additional ongoing costs of storing data. The company's Chief Executive Officer David Flynn claims Fusion-io storage devices can create breathtaking efficiencies by enabling data centers to lower electrical use by 20%, reducing data delivery times from thousandths of a second to millionths of a second, and all while costing roughly one-tenth as much as a rack of standard hard-disk drives.
Apple and Facebook are Fusion-io's two biggest customers, accounting for 57 percent of revenue in the company's second quarter 2012 earnings, according to Chief Financial Officer Dennis Wolf on the January 24 conference call. Credit Suisse (CS) analyst Kulbinder Garcha forecasts Apple and Facebook could conservatively grow at 20 percent rates, enabling Fusion-io to benefit significantly by growing revenue from these two strategic relationships. Garcha further estimated that Fusion-io may have five to ten more strategic accounts in their sales pipeline, with one or two of those being the size of the Facebook account. Through the strategic relationships with Facebook and Apple, Fusion-io products are indirectly interfacing data for more than a billion consumers, including 845 million active monthly users on Facebook alone. The company pointed out on its conference call that it had six customers that exceeded $1 million in orders during the second quarter, with two from new accounts and four from established customers. Revenue from all strategic accounts rose 18 percent sequentially in the quarter, while revenue from core accounts was up 7 percent with a strong backlog going into the third quarter.
In addition to Fusion-io's strong and growing list of strategic and core accounts, the company has developed key relationships with OEM partners that are driving healthy trends such as its new customer Salesforce.com (CRM). While Fusion-io does maintain a direct relationship with Salesforce.com, it is currently fulfilling orders through one of its OEM server systems vendor partners after contributing to the sales presentations and generating the demand for the products. This offers another way for the company to penetrate new markets and develop new clients. The strategy is to become a partner to OEMs by providing co-marketing, support, and training on Fusion-io products rather than simply a vendor of components. Fusion-io believes this is essential to successfully introduce what the company's CEO Flynn calls a "disruptive technology" into the data centers of large enterprises that will someday displace the current prevailing mechanical hard-disk storage architecture. The company has established Technology Alliance Partners assisting companies like SAP (SAP) to create bundled products and turnkey storage systems for clients using Fusion-io as the original equipment supplier. Fusion-io also has an OEM relationship with Digital China that it believes will drive penetration into the Chinese market.
Fusion-io has key advantages over its competitors, such as late arrivals like the EMC (EMC) Project Lightning VFCache. One is in support and software, which have the dual potential to command new customers and drive higher gross margins. Fusion-io is the only competitor in the enterprise flash storage market to support every major server vendor and operating system. The other is the company's intellectual property and patent portfolio, where Fusion-io claimed in its conference call to have 108 U.S. patents and pending patents, in addition to 97 foreign filings for corresponding intellectual property. Other competitors of Fusion-io include NetApp (NTAP) and STEC (STEC).
Fusion-io reported 169 percent year-over-year revenue growth for its second quarter 2012 earnings, and raised full year guidance to 65 to 70 percent revenue growth, compared to its prior estimate of 55 percent year-over-year. One important fact is that this young company is not yet listed in any of the market indices, which provides great potential in the future for tremendous increase in the stock's valuation as the market senses that it may be selected for inclusion.
Fusion-io's stock price has retreated from its previous peak around $41, and is currently trading near its lower Bollinger band as shown below: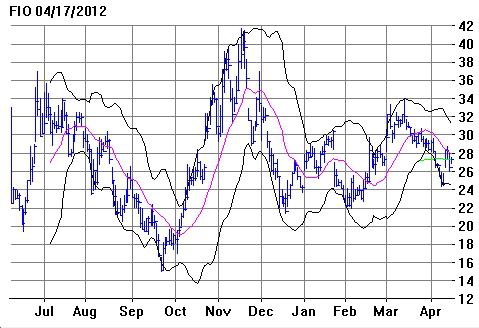 The company's P/E of 97 is up in the stratosphere, so any bad news related to this company could see its stock price drop significantly. Fusion-io is scheduled to report earnings on Thursday, April 26, 2012, and any bad news released by the company could be a catastrophe for its stock price, however, a protected covered call position protects from a large drop in stock price.
The protected covered call shown in the table above enables an investor to participate in the upside of Fusion-io's stock price and also protects the stock investment from a large downward movement in price. The specific call option to sell is the 2012 May 27 at $2.35, and the put option to purchase is the 2012 May 24 at $0.90. A profit/loss graph for one contract of the Fusion-io protected covered call is shown below: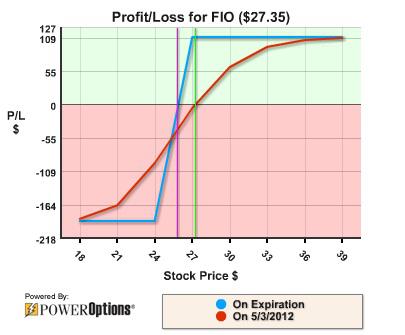 For a stock price less than the $24 strike price of the put option, the value of the protected covered call remains unchanged (at expiration). And, if the price of the stock increases to around $30, the position can potentially be rolled in order to realize additional potential profit.
Disclosure: I have no positions in any stocks mentioned, and no plans to initiate any positions within the next 72 hours.