We have read some disturbing articles recommending Canadian Oil Sands (OTCQX:COSWF) as an income vehicle. While we have owned a small position in the stock for years, based on strategic considerations, it is not effective for those seeking a steady stream of dividend income.
If you want to own part of huge oil reserves in a friendly country contiguous with the United States -- immune from nationalization by the likes of the leaders of Venezuela and Argentina -- immune from the separatist violence in Nigeria -- immune from the Arab revolutions in Libya and elsewhere -- immune from sanctions and possible war with Iran -- immune from behavior in Russia to expropriate without seeming to nationalize oil assets -- immune from the quasi-monopoly power of Saudi Arabia -- protected from dwindling reserves in many conventional oil areas -- then by all means own Canadian Oil Sands.
If you believe the valuation is attractive for price appreciation and total return, then by all means own Canadian Oil Sands. Kurt Wulff of McDep, for example, expresses a positive view about that.
However, if you are a retiree, needing to live on your investment income, and you hear or read about stable income; look again and don't buy it.
Just look at this five year chart of dividends, and you will see that a steady income producer it is not. It may be a great stock for lots of reasons, but steady income is not one of them.
Five Year Price, Earnings and Dividends Chart: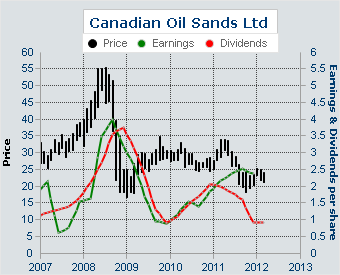 Business Description:
Canadian Oil Sands Limited is a Canada-based company. The Company provides investment opportunity in the oil sands through its 36.74% interest in the Syncrude Project.
The Company is the joint venture owner of the Syncrude Joint Venture (Syncrude), a producer of low sulphur, light, synthetic crude oil.
The Syncrude Project is located near Fort McMurray, Alberta and is consists of oil sands mines, utilities plants, bitumen extraction plants and an upgrading complex that processes bitumen into SCO. Syncrude Canada Ltd. (Syncrude Canada) is the operator of the Syncrude.
During the year ended December 31, 2011, Canadian Oil Sands estimates Syncrude's proved plus probable reserves at 4.8 billion barrels (1.8 billion barrels net to the Company), best estimate contingent resources at 5.2 billion barrels (1.9 billion barrels net to the Company) and best estimate prospective resources at 1.6 billion barrels (0.6 billion barrels net to the Company).
Ownership:
Smart, major oil companies are owners, but they don't have the same life span, or cash flow needs as you as a retiree. They must think strategically about oil, while you can if you wish, but don't have to do so. They can think in longer time frames than your remaining life expectancy as a retiree.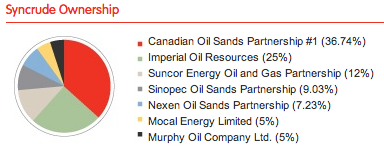 Management Agreement:
Syncrude Canada Ltd. operates and administers the Syncrude Project on behalf of its owners. A Management Services Agreement with Imperial Oil Resources (25% Syncrude owner) enables Syncrude to access the expertise and global best practices of Imperial and its majority owner, ExxonMobil, in such areas as: maintenance, energy management, procurement and safety, health and environmental performance.
Key Statistics From Bloomberg (listed under local symbol):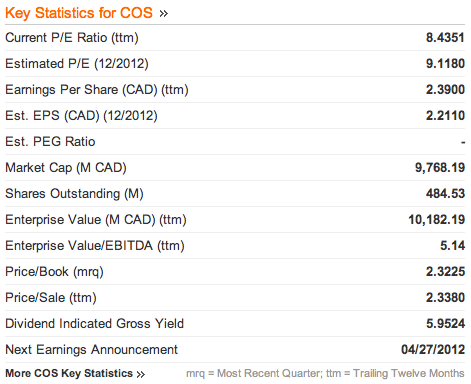 Disclosure: QVM has a position in COSWF.PK as of the creation date of this article (April 17, 2012).
General Disclaimer: This article provides opinions and information, but does not contain recommendations or personal investment advice to any specific person for any particular purpose. Do your own research or obtain suitable personal advice. You are responsible for your own investment decisions. This article is presented subject to our full disclaimer found on the QVM site available here.
Disclosure: I have no positions in any stocks mentioned, and no plans to initiate any positions within the next 72 hours.
Additional disclosure: Disclosure: QVM has a position in COSWF.PK as of the creation date of this article (April 17, 2012).