After the fifth day in a row falling down, the markets are starting to worry investors. The volume has been high and the prices have crossed the 50-day moving average (red flag). Besides, after the first earning reports, the companies show a slowdown in their activity because of a lack of confidence in the economy. These are the times most analysts suggest to stay out of stocks. "Cash is king," they say. Others, the contrarian ones, will write about not missing this perfect opportunity to build a good portfolio.
SimplyNoRisk, on the other hand, does not try to time the markets. We understand that it's not possible to consistently be right in our buying and selling. So, to support our investing approach, we use two money management algorithms, that have been really successful in the past and in our Montecarlo simulations.
We are slowly buying, trying to produce a steady income through dividends in the future. One of the risk management algorithm will tell us how much we should buy, but which companies?
Using scoring tools, we come up with a list of candidates. After deeply analyzing one by one, we select some for our portfolio. Today we want to introduce one of our picks: United Guardian (UG).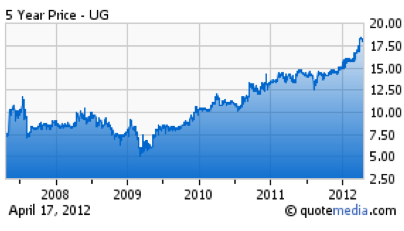 United Guardian manufactures cosmetic ingredients and products, such as Lubrajel, a lubricant gel used in many products. It is a small company (capitalization: $84M) with low beta, 0.47, which means it's much less volatile than the market as a whole. It pays a dividend yield above 4% a year, with a payout ratio of 78% (78% of earnings goes to pay dividends), a little bit high, though. In any case, the company has shown interest in its shareholders by increasing the dividend every year (dividend 5-year growth rate: 11%).
Its P/E ratio is around 18, less than its industry and sector, which somehow means it's not expensive. Its Return On Equity shows a huge 35. And the great part comes here: zero debt, so all the financial strength ratios are magnificent in comparison with its industry and sector. Its sales have been going up despite the crisis and it may well presume of EPS 5 Year Growth Rate of 13%.
So, to sum up, based on the above fundamentals, we find UG, United Guardian, a perfect option to become part of a diversified dividend portfolio.