Hire an Intern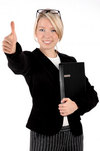 In the early 1980's only one of every 36 college students completed an internship. Since 2000, nearly 86 percent of college students participate in internships. Students take internships to give them practical knowledge and skills to supplement the theoretical knowledge they acquire in university. However, students are not the only ones who benefit from internships.
Interns are cheap labor. Often, they are even free. They are available year-round and are generally responsible. They can be a cheap supplement to your staff and complete projects that you ordinarily would not have the time or money to finish.
Interns may also have specialized knowledge from coursework or previous jobs that they can use to fill a niche in your company.
Internships give employers the opportunity to test out potential employees without having to commit to them. However, if you do decide to hire the intern after graduation, you will have an employee who is already trained and whom you know is a good worker.