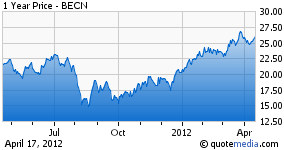 Today, the Census Department updated housing starts and permit data. And while housing starts back-and-filled some of their strength last month, the improving trend remains intact. If construction is on the mend, a lot of short sellers will be caught flat footed, providing an opportunity to profit from the construction supply chain.
Finding the industry's biggest winners will likely mean looking beyond Home Depot (HD) and Lowe's (LOW) to smaller plays such as Beacon Roofing Supply (BECN), an under-followed roofing distributor with 192 locations across 13 regional companies, 38 states and six Canadian provinces.
Leaks are fairly non-discretionary.
Beacon has solid exposure to tornado alley, winter weather and hurricane prone regions, which help support sales regardless of the economy. And, in addition to roofing materials, the company gets 14% of its sales from complementary products such as windows and siding. This positions Beacon nicely for upside, particularly given the 30% year-over-year increase in housing permits reported for March.
But demand alone doesn't mean much if it can't be turned into profits. Beacon delivers with compounded sales and operating income growth of 16% and 19% over the past decade, respectively.
Re-roofing sales account for about 70-80% of sales during normal times and over the past couple years, that number has surged higher as new construction ground to a halt. As construction rebounds, look for new builds to account for a larger share of Beacon's growth.
A mix of residential and commercial exposure offers upside.
Residential roofing materials represent 46% of Beacon's revenue. Another 40% comes from commercial building, which is also on the rise again.
In February, residential construction rose 4.6% as new home sales came in 11.4% higher than last year. At the same time, new home inventory fell to the lowest in more than a year, while months for sale came in at 7.6, down from a peak of 10 last June.
Meanwhile, non-residential and commercial construction spending increased 4.95% and 6.43% year-over-year in the most recently reported month of February, respectively.
And there's plenty of market share up for grabs.
The industry is highly fragmented. Beacon owns just 7% of the market while 1,500 smaller competitors control 73%. With the median age of U.S. housing stock at 35 years, the industry is set to grow at a compounded 5.7% rate through 2015, up from $16.8 billion currently.
This presents a lot of opportunities to acquire best-in-breed regional players in a bid to add depth to the company's reach. Beacon thinks those kind of deals could drive 10-15% sales growth annually, on top of the 5-10% organic growth it expects.
As a result, sales have bounced back to $1.81 billion last year, from a recessionary trough of $1.61 billion in 2010. Gross margins are on the way back up too. They increased to 23.1% last year, up from 22.4% in 2010. These are good signs for shareholders, particularly as a tough sales market becomes easier.