By Susan Wright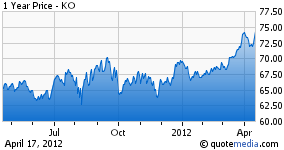 The battle of the cola wars between Coke (KO) and Pepsi (PEP) seems like a distant memory - especially with the more recent competition from "power" and energy drinks. Yet, the two primary long-time competitors are still holding their own in this niche.
While many of Coke's competitors have branched out into the production and sales of snack goods and even grocery products, Coca-Cola has remained highly focused on its primary product - carbonated beverages.
In this article, I discuss why I think Coca-Cola could still be a great buy for those investors who are seeking dividend income. With new cost savings programs and marketing on the horizon, it is anticipated that the stock price will shoot higher in the near term. For both the short and long-term, Coke is - and likely will be - a nice staple for any portfolio.
The Fundamentals
Although Coca-Cola drinks are sold freely around the world, the company's offerings are lagging a bit in the U.S. due to both bad publicity about flavored carbonated beverages as well as competitive pressures.
Yet, in spite of that, the company is still well positioned to reward those who own its shares. Currently trading in the neighborhood of $72 per share, the stock pays its investors a per share dividend of .51, allowing for an annualized dividend yield of 2.8%.
In 2011, Coke outperformed the S&P 500 index by returning nearly 6.5%. This was well above the S&P's tiny .20% return, and also well above its primary competitor Pepsico that returned 1.6%.
Coca-Cola posted fourth quarter 2011 earnings that exceeded the expectations of analysts. Overall, analysts had expected a profit of 77 cents per share, however the company's profit was 79 cents per share with a net revenue that rose 5% from the prior year to just over $11 billion.
The Competitive Landscape
Certainly, one of Coke's biggest long-time competitors is Pepsico. Pepsi, the largest snack and non-alcoholic drink producer in the U.S. manufactures and distributes a number of well known brands such as Pepsi, Gatorade and Frito-Lay.
Although the company's revenues come from a variety of sources - with less than 50% from carbonated beverages - it could be thought to be much more fragmented than that of Coca-Cola. In addition, PepsiCo is highly exposed to the cost of raw materials such as corn, sugar and aluminum. At a recent price of $65 per share and a dividend yield of 3.2%, I would still lean toward the more-focused Coca-Cola company when comparing the two.
Another of Coca-Cola's competitor is Dr Pepper Snapple Group (DPS). Even though this company also has a lower stock price - approximately $40 per share - and a higher dividend yield at 3.5%, this company also falls short of Coca-Cola in terms of worldwide product reach and growth.
While most may also consider Kraft Foods (KFT) as an alternate to Coca-Cola, it too may not be able to provide either the growth or income benefits comparable to an investment in the latter. Kraft boasts a market capitalization of just over $66 billion - that is well under half that of Coca-Cola. In addition, while the stock split announced in late 2011 could have the potential to benefit investors, that remains to be seen as it takes a great deal of resources to build a new brand name - as Kraft will be required to do with Mondelez, its new snack products brand.
One company that is bringing a great deal of growth to the non-alcoholic beverages sector is the energy drink manufacturer Monster Beverages (MNST). With virtually no debt and nearly $800 in cash, this company has very large growth estimates. This could essentially make Monster a target for a purchase by one of the big guys, Coke or Pepsi.
Even though Coca-Cola's stock shares are selling at a higher price and the company's competitors are primarily strong companies, I believe Coke is still the better investment as it is far more focused than Pepsi and has a much wider global reach than Dr. Pepper Snapple.
One of the benefits of this is that Coke's products have a much larger amount of market share and the company has nice stable operating margins - especially as they relate in comparison to Dr. Pepper and Pepsi.
Three of Coke's top regions as far as operating margin in 2011 include Europe at nearly 65%, Latin America at almost 64%, and Eurasia and Africa at just over 40%. To cap this off, Coca-Cola possesses a long-term debt to capital ratio of approximately 28% - much lower than that of its closest rival PepsiCo.
Recently, Coke also announced a new savings initiative referred to as the Productivity and Reinvestment program. This is focused on creating incremental annualized savings of between $550 and $650 over the next three years. This appears to be a natural outgrowth of Coca-Cola's 2020 Vision for designing and implementing the most efficient and effective business system.
This savings are then to be reinvested into the company's brand building marketing. The company states that the program is intended to drive profitable growth through both marketing and innovation effectiveness - done so via making productivity savings on operational processes such as those that are conducted by its IT systems and supply chain, as well as by a simplification of how the firm uses data.
The Bottom Line
Due to Coca-Cola's great exposure to growing markets as well as the company's new cost saving initiative program, the company is likely to save well over $550 in 2012. On top of that, the company's annual $11 billion advertising budget - which includes sponsorship of the Summer Olympics in London - it is highly likely that Coke's soft drink sales will explode even more than they already have across the globe.
For these reasons, I feel that Coca-Cola is an extremely stable investment that offers a nice dividend along with a very high probability of growth via additional sales and potential acquisitions.