By Anthony Ha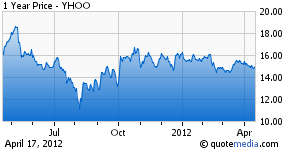 Yahoo (NASDAQ:YHOO) CEO Scott Thompson outlined a vision today of how the company can start growing as a company again. His big theme: Focus, focus, focus.
"Yahoo has been doing way too much for too long and was only doing a few things really well," Thompson said.
He was speaking on the conference call covering the earnings report covering his first full quarter as CEO, where revenue was flat while earnings went up. Thompson has already been making some big changes, with big layoffs and a major reorganization, but he said he isn't satisfied with the results so far.
Even the company's lesser-known properties may be getting more engagement than most startups or mid-size companies, but Thompson said, "That doesn't mean we should continue to do everything we currently do." Specifically, he said he will be shutting down or "transitioning" at least 50 Yahoo properties, so that it can focus on core products like Mail, Finance and Sports.
Other strategies include using all the data that Yahoo have collected to deliver a more personalized experience for users, doing more to show advertisers their return on investment, and accelerating the process of developing new features and products.
"Yahoo has built processes that were originally intended to help us scale but they've become way too complex and stifled innovation," Thompson said.
Shutting down properties may lead to a "modest" decrease in revenue, but the company's margins will improve, he added. He also said that Yahoo won't pursue new products in the future, but first it needs to "earn the right to pursue new growth opportunities" by improving core experiences.
"I'm convinced we don't need to reinvent the wheel," Thompson said. Instead, Yahoo just needs to reinvent the user experience.