By Brendan Gilmartin
Overview
Morgan Stanley (MS) is slated to report 1Q 2012 earnings before the opening bell on Thursday, April 19. The actual results are scheduled to be released at 7:15 a.m. EST with a conference call to follow at 10:00 a.m. The results follow stronger than expected earnings from close rival Goldman Sachs (GS).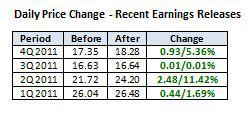 Outliers And Strategy
Key Measures:
Earnings Per Share from Continuing Operations: If provided, the value for this measure is most often the comparable figure to consensus estimates.
Revenues: Revenues are a critical measure for Morgan Stanley.
Morgan Stanley is expected to post EPS of $0.45 per share (range is $0.34 to $0.58). Revenues are seen slipping approximately 4.0% to $7.33 billion. (Source: Yahoo Finance).
After recently touching an eight-month high of $21.17 on March 26, Morgan Stanley shares are off about 20% headed into the 1Q 2012 earnings release. Note that the shares trade at just 14.8x profits and 0.55x book value.
Key takeaways from the Goldman Sachs release that should be considered for Morgan Stanley:
Goldman Sachs 1Q diluted earnings per common share were $3.92, well above the Street estimate of $3.55.
Net revenues of $9.95 billion topped estimates of $9.41 billion.
Fixed income, currency and commodities client execution generated net revenues of $3.46 billion. Net revenues in investment banking were $1.15 billion, 35% higher than the fourth quarter of 2011.
Goldman Sachs increased the quarterly dividend to $0.46 per common share from $0.35.
Recent News
04/02: Rochdale Securities Analyst Richard Bove told Bloomberg TV that Morgan Stanley shares should be "purchased aggressively," contending the shares are "cheap" and the cycle is moving in the right direction for financials.
03/16: Deutsche Bank downgraded Morgan Stanley from Buy to Hold and reduced the price target from $28 to $22, according to MS)+to+Hold/7274903.html" rel="nofollow">StreetInsider.com. The firm cited limited upside based on valuation, a mixed macroeconomic backdrop, and a still uncertain regulatory climate as factors for the downgrade.
Technical Review
After recently breaking out to an eight-month high ($21.17 on 3/21), Morgan Stanley shares have been fading ahead of its 1Q 2012 earnings release and is now barely holding the closely-watched 200-Day SMA near $17.50. A solid earnings release from close counterpart Goldman Sachs and compelling valuation are helping to keep Morgan Stanly shares above that critical level. In the event of a disappointing release, there is downside risk to the $15.00/$16.00 area. Conversely, there is resistance at the 20-Day/50-Day SMA crossover near $19.00, followed by the aforementioned high near $21.00. (Chart courtesy of StockCharts.com)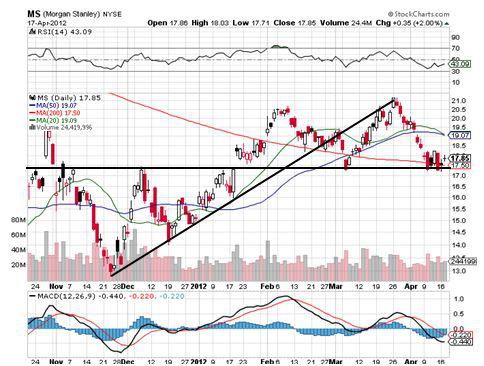 Summary
Morgan Stanley shares are coming off an eight-month high ahead of its 1Q 2012 earnings release amid concerns over the macro and regulatory backdrop. However, the shares made a stand at the 200-Day SMA near $17.50, fetch a reasonable 14.8x earnings (GS is 26.4x) and only 0.55x book value. Furthermore, renowned banking analyst Richard Bove told several media outlets the shares were cheap at these levels and suggested there was meaningful upside in light of a more favorable backdrop. With that being said, any missteps or disappointing figures in the release may appear disappointing and could also be priced in at these levels.
Disclaimer: By using this report, you acknowledge that Selerity, Inc. is in no way liable for losses or gains arising out of commentary, analysis, and or data in this report. Your investment decisions and recommendations are made entirely at your discretion. Selerity does not own securities in companies that they write about, is not an investment adviser, and the content contained herein is not an endorsement to buy or sell any securities. No content published as part of this report constitutes a recommendation that any particular investment, security, portfolio of securities, transaction or investment strategy is suitable for any specific person.
Disclosure: I have no positions in any stocks mentioned, and no plans to initiate any positions within the next 72 hours.