Every now and again an investor comes across a small cap stock that has become ridiculously cheap and is worth a flyer even if there is not nearly the data available on it compared with a larger peer. One gold miner that I recently came across is the classic high risk/high reward play for aggressive investors. I think it has solid value and I picked up a small position Monday.
Claude Resources (CGR) - "Claude Resources Inc. engages in the acquisition, exploration, and development of precious metal properties in Canada. It explores for gold mineral reserves and mineral resources in northern Saskatchewan and northwestern Ontario". (Business Description from Yahoo Finance)
7 reasons CGR is a solid high risk/high reward play at just under $1 a share:

The stock is cheap at under 5 times forward earnings and 90% of book value.
The company has a solid balance sheet and net cash makes up around 15% of the market capitalization of the stock.
Only three analysts cover this stock but all of them have price targets of over $2 a share on CGR, with the low target being $2.10.
Operating cash flow sextupled from FY2009 to FY2011.
Analysts are predicting over 20% revenue growth in FY2012 and over 30% in FY2013 as new production comes on line.
It recently upped its inferred resource base by over 200%.
The stock has traded between a range of around $1 and $3 over the last two years. It is now at the bottom of this range and seems to have support at these levels (See Chart).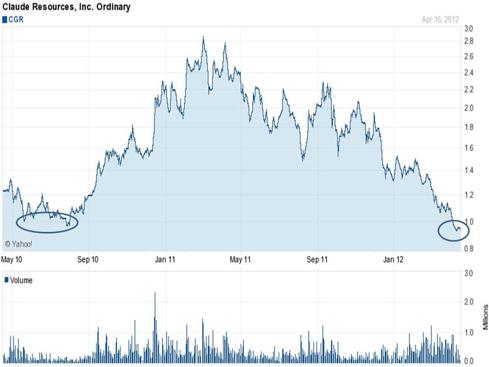 Disclosure: I am long CGR.